Textile Exchange Attending
October 21-24, 2013
Shanghai, China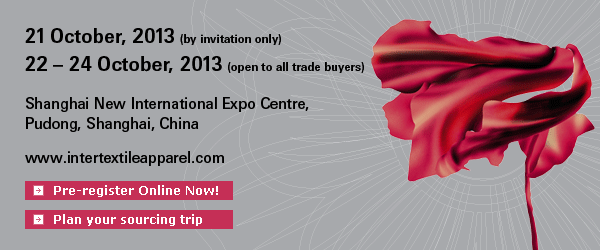 Eco & functional fabrics & accessories flourish at Intertextile Shanghai Apparel Fabrics
All about Sustainability
Sustainability will play a key role in the 2014-15 autumn / winter fabric trends as recycled fabrics become more widespread in the industry. It will also be an important feature of the fair, with the 'All about Sustainability' zone appearing for the first time at Intertextile Shanghai Apparel Fabrics. This area is the main port of call for those in the industry interested in sustainability, and features two distinctive areas: exhibitor & educational zone and a display zone.
Functional fabrics – another key market trend
The demand for high-performance fabrics has increased along with improvements in production technology and rising living standards. Consumers today are not only looking for style and durability, but are also conscious of psychological, sensorial and thermo-physiological comfort.
Because of this, functional fabrics remain a featured product of the fair. Many types of functional fabrics will be showcased in hall W4, with properties such as thermo-regulation, moisture wicking, increased durability, elasticity and windproof, and more.
Over 500 accessories exhibitors for you to source from
Located in halls E6 and E7, over 530 international and domestic suppliers will showcase their products across 23,000 sqm of exhibition space. A selection of zippers, buttons, lace & embroidery, linings/ interlinings, threads, labels, hangtags, tape, appliqués / sequins / beads / rhinestones and fashion accessories can be found here.
Map your way to sourcing success with these 3 concurrent events
Fair facts
Date:
21.10.2013 (by invitation only)
22 – 24.10.2013 (open to all trade buyers)
Opening hours:
09:00 – 17:30 (21 – 23.10.2013)
09:00 – 14:00 (24.10.2013)
Venue:
Shanghai New International Expo Centre
2345 Long Yang Road, Pudong Area, Shanghai, China
Admission:
Free to all professional trade buyers.
Persons under 18 will not be admitted.
Contact