Insider Series
Applied DNA Sciences
Applied DNA Sciences is a B2B technology providing innovative molecular business solutions under the CertainT Platform to enable brands and manufacturers to Tag-Test-Track their raw materials all the way to finished product. This provides Traceability, Transparency and Trust in cotton, rPET, leather, down and feather and many other materials.
What's the most inspiring story you can share from your work?
  Our company's entry into traceability really started with our work in security 15 years ago. We still provide our unique SigNature molecular tag in cash-in-transit boxes that have a unique tag. When money is stolen, there is an ink that stains the banknote with the molecular tag. Typically, the criminal will try to remove the ink stain but they do not know that the molecular tag is present. Even after multiple attempts to remove the stain with heavy duty solvents, the molecular tag stays adherent to the banknote. This enables us to link the specific DNA to the specific date, time, place of the crime. The seminal work in security gave us a clue that our molecular tag would be perfect for cotton, recycled PET and many other materials.
Tell us about your latest news and your plans for the future.
  We have been working very closely with our CertainT partners to implement our molecular solutions in a wide variety of materials that include cotton, recycled PET, leather, down and feather, as well as specialty bio-based and recycled fibers, fabrics and even coatings. Many partners choose to work with us because of the scientific and depth of experience in implementing molecular technology in a wide range of materials, but also our expertise to help integrate the supply chain with industry leading experts.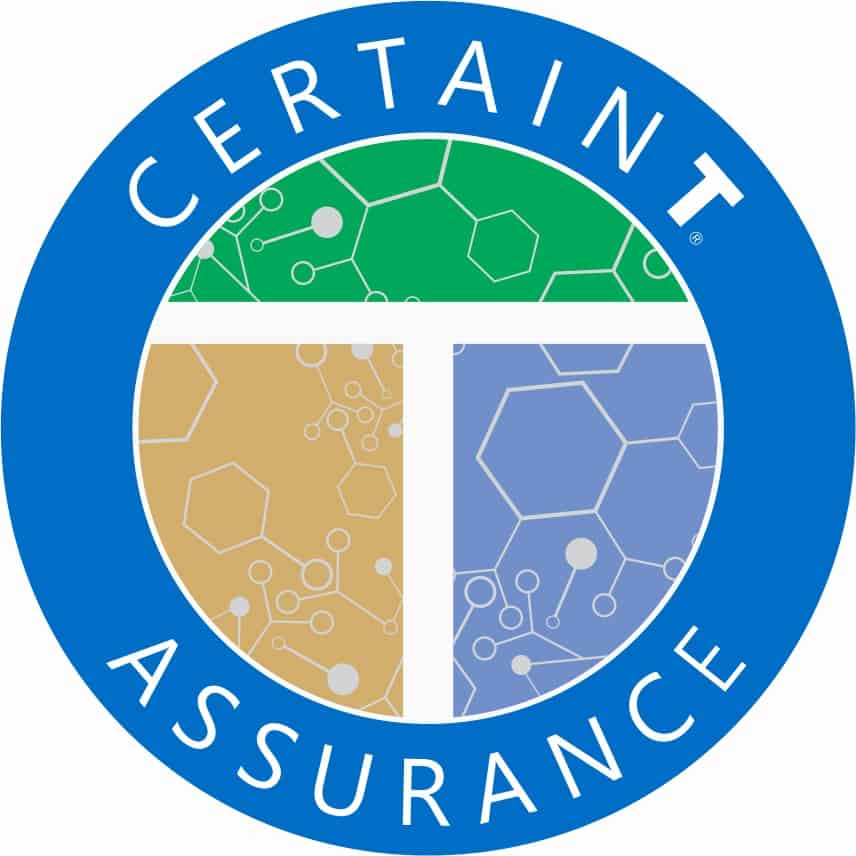 Source: Applied DNA Sciences
What are the impacts of COVID-19 on your work?
Our company is quite unusual in that the impact of COVID-19 fit with our capabilities in developing diagnostic testing kits as well as PCR-based methods to make DNA for Covid-19 based vaccines. This capability is a result of our patented and proprietary technologies to make and produce DNA in large scale, as well as our strengths in assay development that is smarter and faster. The increased visibility of PCR-based technology has helped to increase awareness of the importance and scalability of molecular tagging and testing that can only serve to benefit the textile, apparel and footwear industry.
What advice would you give to someone interested in producing or sourcing certified materials?
  I would suggest that they also learn about track-and-trace technologies like our CertainT platform, and see how to incorporate this as part of their sourcing and supply chain planning. The need for transparency is not going away any time soon, and the risks of not having a physical means to track-and-trace your products in your supply chain are high. If you make a claim about a product, you need to know your supply chain and having a tool to verify the product itself will only serve you well in the long run.
How does your work contribute to our Climate+ vision?
  We work closely with our partners to enable them to have scientifically based data that can support their sustainability goals and claims that goes beyond a paper trail. We believe that there will be an increased need for supply chains to verify their raw materials that show a linkage to the claims, which in turn, enables assurance in quality and integrity of their finished products.
Website:
https://adnas.com/certaint-supply-chain-platform/
Brand / Retailer|Professional Services|Supplier / Manufacturer