Insider Series, Member Spotlight
C&A Global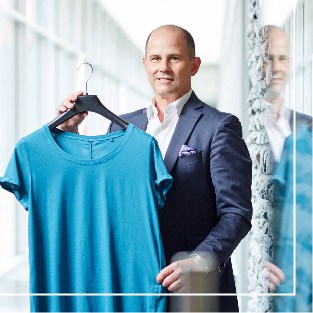 Q: What inspired C&A to explore a C2C approach?
C&A believes that as an industry, we have an opportunity to move away from the current 'take, make, waste model' to a circular model. In practice, this means designing, developing and producing products with their next use in mind; extracting the maximum value from garments while in use, then recovering and regenerating products and materials at the end of use to give them another useful life.
Cradle to Cradle Certified is currently the most comprehensive and recognized program in sustainability certification. Its protocol envisions every resource used to make products as a safe nutrient in an endless cycle. C&A's Cradle to Cradle Certified collection is an important milestone for C&A – and the industry – as it demonstrates unequivocally that creating circular fashion is already possible.
Q: What needed to be done to achieve this level of certification and what challenges did you face?
To achieve C2C certification, products are evaluated and optimized by an accredited assessor for human and environmental health, recyclability or biodegradability, renewable energy use, carbon management, water stewardship, and social fairness. MBDC, founded by world-renowned architect William McDonough and chemist Prof. Michael Braungart, served as assessor for this project. As a first step, the team visited the two Indian manufacturers, Cotton Blossom and Pratibha Syntex, to develop a baseline assessment of their factories against the C2C Certified criteria. By using renewable energy, offsetting carbon emissions, practicing social fairness, and cleaning the water used in production, both manufacturers were performing well.
More challenging was the chemical side of production. We needed to submit the T-shirts' Bill of Material (BOM) including process chemicals to the C2C assessor for an initial chemical assessment. Based on this, MBDC worked with us and our suppliers to optimize the materials and chemicals used.
We had to rethink the product construction and use 100 percent organic cotton not only in
the shell fabric but also for the sewing thread and the composition label so only biological nutrients are used in the products.
At the end of the process, C&A's C2C Certified Gold products demonstrate the ability to be safe enough for home composting at end of use.
Q: As a first mover, why didn't you use the knowledge you gained to your competitive advantage?
We learned enormously by developing our first C2C Certified Gold garment. But C&A alone cannot change the industry; we actively want others to follow our lead. This breakthrough is too important to keep to ourselves. The industry will need much more collaboration on circular economy approaches like C2C certification, including more brands agreeing to develop products for their next use. And this is why all our learnings have been shared through the Good Fashion Guide at Fashion for Good; explaining how Gold level C2C Certified products can be made so others don t need to go through the same learning curve.
Q: How have your customers responded?
We are pleased with the certified T-shirts' commercial success and the reaction of our
customers. C2C Certified is a complex topic and difficult to communicate in consumer advertising and in our stores. The circularity of the product and its high level of environmental performance and social fairness were appreciated and understood by our customers. This reaction encourages us to continue on our circular fashion journey.
Q: What are your plans for the future?
By providing our customers with clothing that is safe enough to return to the biological nutrient cycle, C&A is empowering the public to affordably purchase organic, socially responsible products that fully respect nature. These T-shirts are the first step in C&A's journey to circular fashion. We are committed to making more C2C Certified products and are currently working with our suppliers on the next set of products. Setting concrete targets remains challenging as there are many technical barriers we still need to overcome, for example, we are looking for printing inks, or trims and embellishments or technical accessories which can be C2C Certified.
Chief Sustainability Officer
Website:
https://www.c-and-a.com/