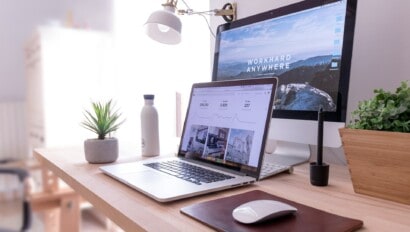 Junior Graphic Designer
About Us
Textile Exchange is a global non-profit driving positive impact on climate change across the fashion and textile industry. It guides a growing community of brands, manufacturers, and farmers towards more purposeful production from the very start of the supply chain.
By 2030, its goal is to guide the industry to achieve a 45% reduction in greenhouse gas emissions within fiber and raw material production. Its focus is holistic and interconnected, accelerating the adoption of practices that improve the state of our water, soil health, and biodiversity too.
For real change to happen, everyone needs a clear path to positive impact. That's why Textile Exchange believes that approachable, step-by-step instruction paired with collective action can change the system to make preferred materials and fibers an accessible default, mobilizing leaders through attainable strategies, proven solutions, and a driven community.
At Textile Exchange, materials matter. To learn more, visit TextileExchange.org.
Working at Textile Exchange
We work remotely with a team located in 20+ countries. We are a diverse group committed to harnessing the strengths of the global textile industry to accelerate change toward climate and other key environmental goals. We work collaboratively on important environmental issues around the world by working and interacting with farming groups, processors, brands, retailers, and environmental experts in the textile and fashion industries around the world. We offer an opportunity to join a cutting-edge global environmental nonprofit and to help strengthen the impact of our organization. Each Textile Exchange employee is offered a competitive compensation package with paid time off, yearly bonus, opportunities for continuing education, and more.
Job Summary
We are looking for a Junior Graphic Designer to join Textile Exchange's Communications team. This role would suit a recent graduate, ideally with a few years of work experience. Applicants with an additional interest in sustainability and textiles would get the most out of the role.
Working under the management of the current Graphic Design lead, the new team member will be responsible for creating social media posts for the company, building and maintaining our photo library, supporting the Communications team with the upkeep of the website, and serving the wider team with presentations and documents designed in line with our newly refreshed brand guidelines.
The Junior Graphic Designer will also support the Graphic Design Manager with the design and publication of many of our various industry reports, such as the Preferred Fiber & Materials Market Report, Organic Cotton Market Report, Material Change Insights Report and 2025 Sustainable Cotton Challenge Annual Report.
As part of the Communications team, the Junior Graphic Designer will also be involved with the preparation and running of our annual Textile Sustainability Conference. This is planned to be a hybrid event, combining aspects of in-person and virtual conferencing.
This is a fantastic opportunity to work for a mission-driven organization. Like all roles at Textile Exchange, this role will be remote and home-based; Textile Exchange is a US-based but remote-working organization with a global team. Your key colleagues will be based in the UK, Italy, and the US.
Duties and Responsibilities
Creation and development of graphics for our social media channels and email newsletters.
Support with formatting PowerPoint presentations for the team making sure presentations are correctly formatted and compliant with our company brand guidelines.
Support with managing Word templates, making sure documents are correctly formatted and compliant with our company brand guidelines.
Supporting the lead designer with the design and layout of data-driven market reports, compiled in InDesign.
Support with preparation of printed and digital assets for our annual conference, including our conference registration website and mobile app.
Assisting with miscellaneous design requests and idea generation, under the supervision of the lead designer.
Involvement with the redesign of company website.
Maintenance and edits to the Textile Exchange website.
Attendance of weekly check-in meetings with the Communications team.
Tracking of time spent on projects and submission of monthly timesheets to our administration department, using our company systems.
Use of project management software to track incoming projects and design requests through to their completion.
Minimum Experience and Qualifications
Bachelor's degree in Graphic Design or other closely related subject.
Minimum of 1-2 years of work experience.
Excellent and thorough working knowledge of Photoshop, InDesign, Illustrator, Word, and PowerPoint.
Desirable skills in AfterEffects, Premier, WordPress, HTML/CSS/JS, and Excel.
An exceptional eye for detail, in both visual design and content proofing.
Excellent time management skills, with the ability to meet deadlines efficiently.
Excellent communication and problem-solving skills, with the ability to generate ideas within a given brief.
A good understanding of web design and content management systems.
Fluency in English, both written and verbal.
A strong understanding of branding and following brand guidelines.
Competence in working with data, graphs, charts, and tables.
Familiarity and/or experience with the printing process.
Ability to work remotely or from home.
Motivation and willingness to learn and be adaptable.
Employment Package
Reports to: Graphic Design, Manager
Full Time Position, 40 Hours a Week
Location: Virtual/Remote
Salary Range: $35,000 – $45,000, dependent upon experience
Start Date: As Soon as Available
How to Apply
Please apply here: https://textileexchange.bamboohr.com/jobs/view.php?id=62&source=aWQ9MjI%3D
Resume 
Cover Letter 
Link to online Portfolio or attached to email as a PDF (max. 20MB) 
Applications will be considered on a rolling basis as they are submitted. Early application submission is strongly encouraged. We regret that we will only be able to contact short-listed candidates. 
Textile Exchange is committed to creating a diverse environment. All qualified applicants will receive consideration for employment without regard to race, color, religion, gender, gender identity or expression, sexual orientation, national origin, genetics, disability, age, or veteran status.