Insider Series, Member Spotlight
Chargeurs Luxury Materials
WOOL WITHOUT BORDERS
Established in 1872, Chargeurs is traded on Euronext Paris (stock exchange) in France and participates in the UN Global Compact with the United Nations. The activity of Chargeurs Luxury Materials (ex Chargeurs Wool), a division of Chargeurs, started in 1988 and their goal has always been to deliver the "best" at every stage. The wool combing division works with over 3,500 wool grower farms globally. Chargeurs has always been deeply committed to ecological and ethical standards from all points of view in the wool industry, especially animal welfare.
We had the opportunity to sit down with Federico Paullier; Managing Director of Chargeurs Luxury Materials. He says he has a "fortunate" history; born into the wool business and a family history that managed sheep farming. Next, he became a wool buyer at the ranch level and the family business was eventually purchased by Chargeurs. He joined Chargeurs in 1988, and over the course of 30 years in sales, manufacturing, and marketing positions, he has worked his way up the ranks at the company managing four combing mills, seven marketing sales offices, and wool sourcing from 6 countries.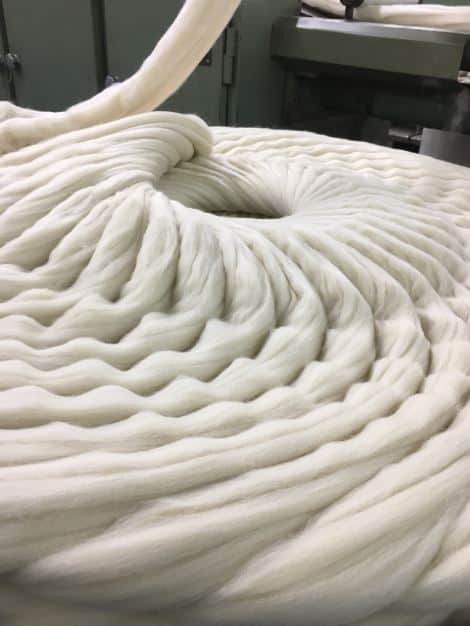 Q: WHAT DOES CERTIFICATION MEAN TO YOU?
From the beginning, we embraced Textile Exchange's Responsible Wool Standard (RWS). We help brands build and understand their wool fiber supply chains and demand for RWS came from them. All four of Chargeurs Luxury Materials wool combing facilities are RWS certified locally in the USA, and globally in Argentina, China, and Uruguay which is monumental. Chargeurs "Wool Top" manufacturing operations are strategically located to deploy wool around the world from every wool producing region.
In parallel to working with RWS, Chargeurs Luxury Materials has developed a wool fiber brand proprietary standard called Organica launched in October 2017 that will use Blockchain technology for absolute certification, transparency, and verification. Organica Precious Fiber is an eco-friendly merino wool fiber brand applying 40 years of Chargeurs wool sourcing and combing operations experience with full traceability. The brand was born out of the passion of our wool business.
Q: WHAT RESULTS HAVE YOU SEEN SO FAR?
The outdoor industry is an early adopter; we have a shared value system that works to protect and preserve the environment, animal welfare, and the livelihood of workers around the world. It is in our collective DNA to do the right thing. We are the main wool supplier for industry leaders as Icebreaker and Smartwool among others. It's a matter of time for more fashion brands to integrate this value system into their global wool fiber supply chains.
Q: WHY IS CERTIFICATION IMPORTANT?
Certification guarantees integrity and verification. Chargeurs Luxury Materials has made significant investments in farm visits, training, and education. When we purchase certified wool, we pay a premium for it. The wool business as a whole is currently at a crossroads; the moment for making a choice has arrived. It needs to move away from commodity to sustainable diversity solutions.
Q: WHAT RESULTS HAVE YOU SEEN SO FAR?
Now is the time to put a stake in the ground, we need to collectively move forward and deliver upon the sustainable goals that brands have made for 2020 and beyond. Cycles are long, and a lot of work is still required for a responsible wool fiber supply chain. Chargeurs Luxury Materials has made significant investments in doing things the "right" way and brands need to understand there is a premium to best practices all the way at the beginning of the wool supply chain and the manufacturing processes.
Website:
Professional Services|Supplier / Manufacturer