Textile Exchange and Fashion Industry Charter for Climate Action 2025 Recycled Polyester Challenge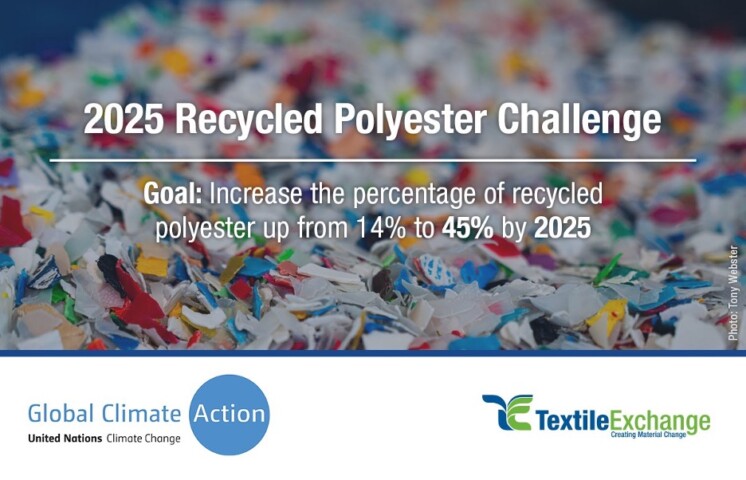 Textile Exchange and the Fashion Industry Charter for Climate Action, convened by UN Climate Change, have launched a joint initiative to spur further a shift in the market towards the uptake of recycled polyester (rPET) and the associated reduction in greenhouse gases (GHGs). With 85 brands and suppliers already committed, the 2025 Recycled Polyester Challenge serves as an essential catalyst for change in the apparel and textile industry. The rPET Challenge petitions the apparel industry to commit to increasing the global percentage of recycled polyester from 14% to 45% at 17.1 million metric tons by 2025. The Challenge continues the successful acceleration that began with Textile Exchange's 2017 Recycled Polyester Commitment.
Some of the brands that have committed to date include:
Adidas, Athleta Aware™ (by The Movement), Banana Republic, Focus Têxtil, G-Star Raw, H&M Group, Helly Hansen, House of Baukjen, Inditex Group, ITOCHU Corporation Textile Material section, J. Crew, Lululemon Athletica, Madewell, Mantis World, Mara Hoffman, Moose Knuckles, Nudie Jeans, Outerknown, Pact, prAna, Reformation, Sympatex, Varner, VF Corporation, White + Warren.
What is required to commit?
Companies committing to this initiative will be required to annually report their polyester consumption to Textile Exchange's Corporate Fiber and Materials Benchmark (CFMB) survey, which will track progress across all participating brands towards the collective goal. All information entered into Textile Exchange's Corporate Fiber & Materials Benchmark survey is entirely anonymous and aggregated across all annual report participants to show progress. Company information will never be singled out and published without a company's explicit request or consent. Brands are required to report once per year by the CFMB deadline, but they have the option to participate in the complete benchmark in full or solely to report polyester volumes.
Join the Change
Learn more and get involved here.