Ready, Set, GO! TE's 2017 Preferred Fiber & Materials Benchmark Program Is Now Open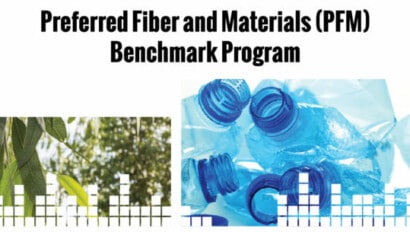 Textile Exchange invites all brands and retailers with an interest in textile sustainability to participate in the Preferred Fiber & Materials* (PFM) Benchmark Program. We are expecting over 100 companies of all shapes and sizes to participate this year – we hope you will consider being one of them!
The 2017 PFM Benchmark Survey opened on May 16 for both existing and new participants, whether absolute beginners or sustainability leaders. The deadline for submissions will close on June 16, 2017. Click here to register/sign in.
Imagine you've improved your overall sustainability performance by 10% over the year. That feels good, but what if everyone else had improved by 15%? You need to know how your progress compares with your peers to judge whether you are ahead, just keeping up, or even falling behind. The PFM Benchmark gives you an annual checkpoint on how you are performing, offers pointers to where you need to focus your efforts, and allows you to identify others who are leading the way so that you can learn from them.
The time is right for deepening transparency back to raw materials, and linking your activities and impacts to the United Nations Sustainable Development Goals (SDGs). By taking part in the PFM Benchmark, you will be rewarded with a customized Company Feedback Report (see sample here) that confidentially benchmarks your performance against your peers and the overall sector.
With 57 participants in 2015 and 71 in 2016, we are expecting over 100 companies of all shapes and sizes to participate this year. We hope you will be one of them!
---
How Do I Take Part?
Existing Participants: Welcome back! This year, to save you time, your survey will be pre-filled with the responses from your 2016 submission. All you need to do is sign in here and update these answers where necessary. We recommend you watch the "Getting Started – For Returnees" webinar, available here, to re-cap on the process and ensure you're up to date with any changes.
New Participants: We warmly welcome new participants joining the program this year and are here to support you whenever needed. We have a number of resources to help you get started on your benchmarking journey, which you can access here. The best place to start is to watch the "Getting Started – For Beginners" webinar, available here, and to register your company to the PFM Portal here so that you can start exploring the survey (note that you can save, exit and return to it as often as needed before submission).
Sign in/ Register to the PFM Portal
Access "Getting Started" Webinars
---
Why Should I Take Part?
Textile Exchange's PFM Benchmark Program provides a robust structure to help your company systematically measure, manage and integrate a preferred fiber and materials strategy into mainstream business operations, compare your progress within the sector, and transparently

communic

ate performance and progress to stakeholders.
By comparing your scores with those achieved by the sector and identifying your strengths and the gaps where future progress can be made, you can more strategically plan improvement efforts across your portfolio of fibers and prioritize action areas.
The Benchmark Program, kindly supported by C&A Foundation and German retailer Tchibo, is an annual event, which means a consistent basis for measurement and a commitment from us to support your year­-on­-year performance improvement review.
---
If you have any questions or require assistance with survey completion, please don't hesitate to contact the TE team at Support@TextileExchange.org
* TE defines PFM as a fiber, material or product that is ecologically and socially progressive and has been selected because it has more sustainable properties than other options.