Insider Series
Solidaridad Network
To address the sustainability issues in cotton farming in Maharashtra, India, Solidaridad is enabling 15,000 farmers to shift to organic farming. Besides the environment, the project also aims to improve the livelihoods of smallholder farmers and their families, contributing to resilient communities in the landscape. This project is made possible thanks to the support of the C&A Foundation and the government of The Netherlands.
Q: What is your main focus at the moment?
In year 1, we focused on training 1,000 farmers on organic farming practices, setting up women-led community seed banks, mapping of existing non-GM seed production programmes, and establishing partnership with State Agriculture University/Universities on seed development. We are now in year 2, in which we train 4,000 more farmers on organic farming while we continue to work to improve input supplies, including non-GM seed.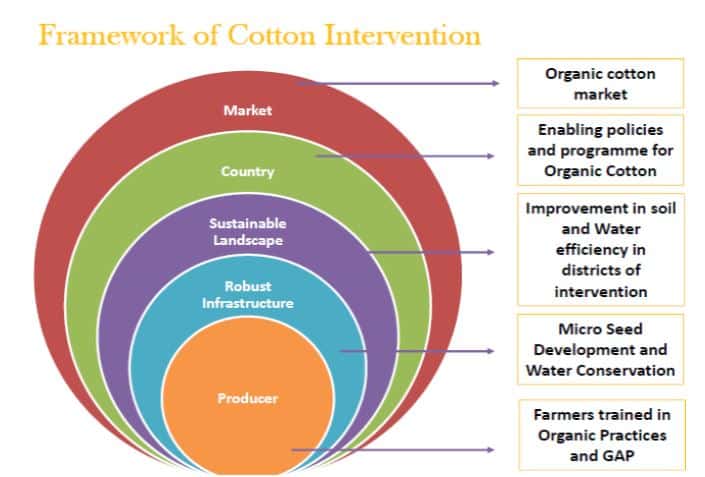 Q: What's unique about the work you do?
The project follows the strategy of Solidaridad Network involving work at several levels to bring about change that matters, as is illustrated in the diagram on the right.
Q: What do you like about working in this particular region of the world?
30% of Indian cotton comes from Maharashtra where its production heavily relies on the use of fertilisers, on chemicals to control insect pests, diseases, weeds, and on growth regulators. Use of chemicals results in pollution, damages soil health and agro-ecology, and contributes to poor profitability from cotton farming. In addition, the situation is worsened by the fact that there are vast tracts of shallow soils with poor fertility, and recurrent droughts. Consequently, yields are low. The region of Vidarbha also has among the highest farmer suicide rates in Maharashtra, as well as high emigration. These sustainability challenges call for an urgent shift towards sustainable farming practices.
Q: What do you think are the biggest challenges when it comes to shifting the needle in cotton?
Challenges found with cotton farming are rooted in the broad context in which it takes place. To enable sustainable cotton farming to take root changes beyond the farm gate, at the landscape, policy and market levels are needed. This requires many stakeholders to coordinate and work in the same direction towards the same vision. Coordination with local and national institutions is needed at the landscape and country level. Brands and Retailers have a key role to play in demanding and actually taking up organic cotton in their supply chain. More fundamentally, we also need to shift our perspective and consider the farmers as not just cotton farmers but people.
Q: What's next for your project / initiative? What does the future hold?
At the end of the project in 2021, we will have engaged with 15,000 farmers. We're looking forward to supporting so many families. More shortly, we are thrilled to be convening, together with the C&A Foundation and the Organic Cotton Accelerator, the Organic Cotton Summit on 4 and 5 December 2019, in Nagpur, Maharashtra. Participants will include government representatives, farmers, farmer groups, researchers and supply chain actors, including spinning mills, brands and retailers. We look forward to working together with all these stakeholders to shape the solutions that will move the sector forward.
Website:
Professional Services|Supplier / Manufacturer