Insider Series
Spinnova Oy
Spinnova represents a disruptive, ecological innovation that turns cellulose and waste streams into textile fibre simply, without dissolving or any harmful chemicals. Spinnova develops the most sustainable fibre in the world.
Q: What is the latest news from your project / initiative?
In the spring of 2019, we started operations on our industrial scale pilot line in Finland. We now produce filament and staple fibre for our brand partners to test on, developing product prototypes before our commercial phase. The spinning, knitting and weaving trials we have had so far are all very promising.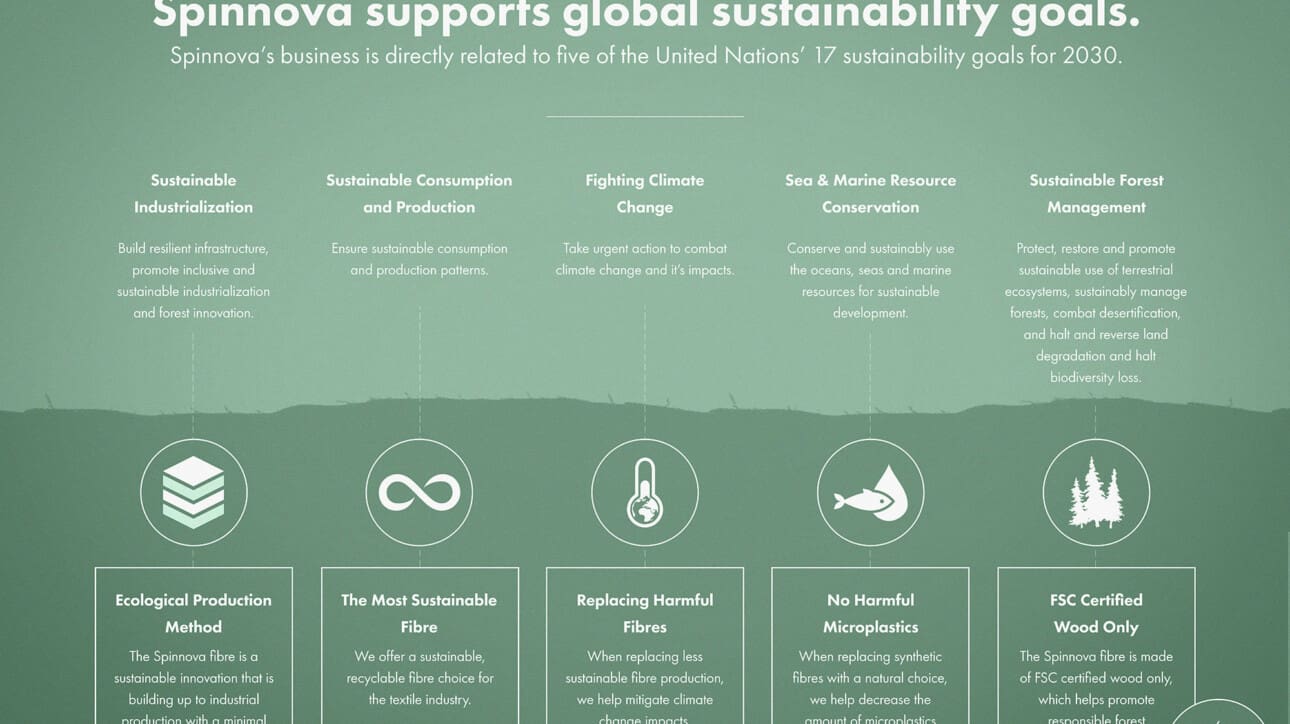 Q: What's unique about the work you do?
We have reason to believe our fibres are the most sustainable in the world. Firstly, the raw material is either FSC-certified, nursery-grown wood or alternatively waste streams that would otherwise be burned or disposed of in a way that would contribute to climate change. Secondly, our process includes none of the dissolving, the harmful chemical or water-intensive processes that go into man-made cellulosics. According to our unique innovation, the pulp / waste-based cellulose is only mechanically ground before extruding as filament. Hence, we save water, energy, natural resources and have zero tolerance for toxic chemicals.
Q: What trends are you seeing in the sector?
We are seeing great material innovation at the moment – the Finnish, pulp & paper based fibre innovation alone includes many different ideas. There is certainly space and demand for all of us in the industry, as brand owners are changing their material bases and fulfilling their sustainability goals. Key here is whether an innovation is scalable in terms of technology as well as raw materials to big volumes and reasonable prices, for maximum environmental impact. We have developed a scalable technology that's now piloted, and our goal is to scale that into very big volumes. We also have three raw material suppliers, including the world's biggest eucalyptus cellulose producer Suzano Papel el Celulose of Brazil.
Q: What have been the key learnings from your work?
We have learned that turning an idea, an invention into an innovation takes courage! We have come so far in just 4.5 years. Especially the waste-based materials have been a nice surprise; that we can take almost any kind of cellulose and turn it into fibre with our technology. The biggest learnings, in addition to a million things we have learned in our everyday R&D, have come from the textile industry. Entering an R&D project with someone like us, who is not in commercial stage yet, takes courage and expertise from the brand, whose textile expertise we need in return. Luckily, we do have several great piloting partners, who are also likely to be the first to implement our fibre in their supply chains
Q: What are the top three priority SDGs being addressed by your project / initiative?
Sustainable industrialization, sustainable consumption and production, fighting climate change, sea & marine resource conservation and sustainable forest management.
Q: Where do you see your project / initiative in five years' time?
In 2024, several different brand of Spinnova fibres are hopefully produced and available to consumers at an attractive price. We produce wood-based fibre in Brazil, agricultural waste based fibre perhaps in Asia / Europe, maybe a third kind somewhere else. Brand owners will begin to replace their cotton, viscose, wool or even polyester fabrics, non-wovens and wadding with our fibre, phasing out the most harmful materials.
Website:
https://spinnova.com/
Manmade Cellulosic Fibers