Insider Series
Sustainable Down Source
Sustainable Down Source is excited about the launch of our down tracking hangtag that will allow end users to see the source of their down and its performance measurements.
Q: What is the latest news from your project / initiative?
The QR code on the new Sustainable Down Source down tracker hangtags will take end users to a website with information on sourcing, certification, technology, down properties, and testing. This feature enhances our supply chain transparency and offers end users easy access to the story behind the down.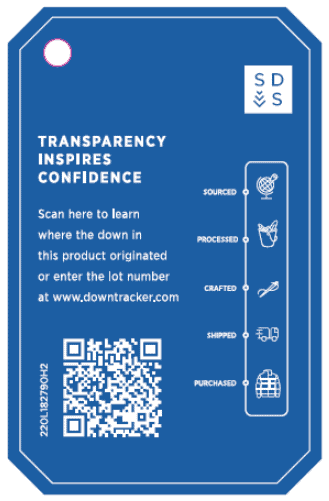 Q: Can you share any environmental or socio-economic quantitative information/data related to the impact of your work?
Sustainable Down Source supports the ethical treatment of ducks and geese. By enhancing the transparency of our supply chain, we can have a positive influence on the adoption of programs like the RDS which guides the industry toward better practices and prohibits live plucking and force feeding.
Q: What trends are you seeing in the sector?
Transparency inspires confidence. Supply chain transparency is growing in the outdoor industry and everyone can benefit from it. The more we know about our supply chains, the more efficient we can be become by improving processes on waste, water usage, raw materials and the way our teams work together.
Q: What are the biggest challenges you face in your work?
A challenge that comes with transparency is holding on to proprietary information. A competitive edge is desirable. So how do we achieve a competitive edge and reveal the way we do things at the same time. Like many, Sustainable Down Source is tackling this challenge one step at a time. We hope our tracking hangtag is the fist step of many.
Q: Does your project / initiative have any specific goals or targets for the next year?
Our goal in supplying a traceability hangtag is to empower consumers with information. Information and visibility lead to positive change in the way we make things, the way we use things, and the way we dispose of, recycle, or reuse things. Together, we can reduce the footprint we leave for generations to come.
Q: Which Sustainable Development Goal(s) does your project / initiative address?
#4 Quality Education
#9 Industry, Innovation, and Infrastructure
#12 Responsible Consumption and Production
Website:
https://www.downtracker.com/