Insider Series
Terre De Lin
Q: Who is TERRE DE LIN?
TERRE DE LIN is a cooperative specialized in the production of textile flax (linen) from the seeds to the fiber. We are 650 farmers and 240 employees who share the same passion for flax. We also share a committed to quality and to innovation. The team focuses on keeping a specific know-how, and strive constantly to improve our production, respect for the environment in compliance with TERRE DE LIN cooperative values. We are based in the Upper Normandy area of France, where the unique terrain of the region produces textile flax of the highest quality. The cooperative represents 15 percent of the world's quality flax production.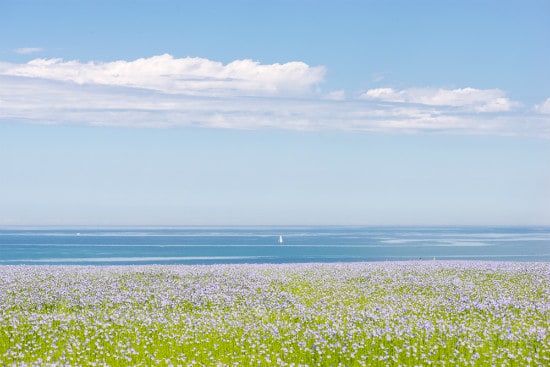 Q: When did TERRE DE LIN start its business?
TERRE DE LIN has been a passionate player in the flax sector since 1939. We developed our company – and our values – over many decades. We were there right from the beginning when France was first developing its flax/linen cooperatives.
Q: Where do you focus your business?
We are quite unique in that we are involved in all the upstream activities of flax production including breeding, seed production, fiber scutching and hackling, and marketing shive by-products. We are joined by two other Upper Normandy cooperatives into what we call the COMLIN cooperative union. The three of us share know-how and marketing of our flax fibers. TEX NORD, our marketing subsidiary, partners with most of the flax spinneries around the world.
Q: Who are your main customers?
We sell seed to cooperatives, scutching mills and distributors throughout Europe but mainly in France. TERRE DE LIN and TEX NORD fiber customers are mainly spinners. They are based in several locations. TERRE DE LIN and TEX NORD work with the largest European and Asian spinners. Although many spinners are now based in Asia, TERRE DE LIN wanted to preserve relationship with European spinners, they represent 25% of our supply. Other fiber customers are the paper industry, the insulation and the technical and composites use industry. We have had partnerships with brands such as Freitag, La Révolution Textile in France and Kenland Linen in Japan.
Q: How do you address sustainability?
Flax is environmentally friendly: it does not have to be irrigated and requires few inputs. It follows a long cycle of crop rotation (6-7 years) which increases crop biodiversity and prevents diseases. Plus, it is a carbon sink that holds 3.7 tons of CO2 per hectare. We base our business on these fundamentals.
Furthermore, the benefits to the cooperative are multiple. For instance the farmers use
ropes made from their flax for farm work and scutching. We have created varieties that are naturally resistant to diseases (only 3 diseases in 30 years) and we share learnings from agronomic trials. There are few areas where we grow flax organically. We consider that conventional flax and organic flax farmers can learn each other to obtain continuous improvements on sustainability and on quality management. All our organic flax is GOTS certified.
From a social point of view, the cooperative system has a transparent and equitable governance system. Each member owns a share of the cooperative. Farmers all have equal voting rights and make decisions together. The cooperative has a long-term development policy to ensure its members income is sustainable and incomes are equitable between farmers.
TERRE DE LIN cooperative operates at a human scale. Rooted in its area, TERRE DE LIN contributes to economic development and local employment.
Website:
http://www.terredelin.com/HP/HPInternet.aspx