Insider Series
The Organic Center
The Environmental Footprint of Organic Cotton: A study by The Organic Center and Iowa State University
Why did you undertake this research into organic cotton benefits and challenges in the U.S.?
The Organic Trade Association's Fiber Council members (including Textile Exchange) asked The Organic Center to take a deep dive into the environmental benefits of organic cotton production, demonstrating the importance of avoiding synthetic chemicals, the role of organic cotton in climate change mitigation, and the benefits organic cotton can have on water and biodiversity. The resulting scientific study, "Organic cotton production may alleviate the environmental impacts of intensive conventional cotton production," undertaken in collaboration with Iowa State University, shows the multitude of beneficial practices used in organic cotton, from building soil health on the farm to using non-toxic methods of textile processing.
While a broad array of research has shown that organic production in general can provide significant environmental benefits, few studies had actually looked at the specific practices used by organic cotton growers and processors in the U.S, nor documented the real-world impacts those practices are having on the environment. Iowa State University researchers filled this gap by surveying organic cotton producers and processors as well as culling the Internet to better understand the specific approaches and methods used in organic cotton production and processing, and the environmental impleacts of those techniques.
We're proud that this study, published in Renewable Agriculture and Food Systems in November 2020, is the most extensive scientific study on organic cotton in the U.S. to-date.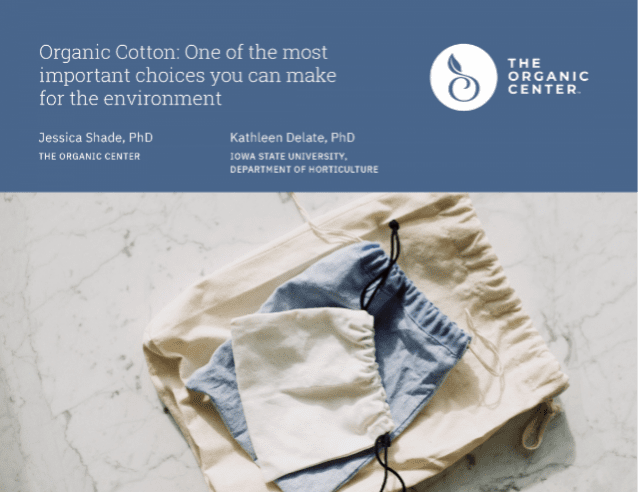 Why did The Organic Center focus on cotton?
People don't always think about organic when it comes to the clothes we wear, the sheets we sleep on, the personal care items we depend on, and the mattresses in our bedrooms. But organic cotton is one of the most important choices people can make for the environment, because it supports a healthy ecosystem and prevents the use of toxic synthetic chemicals.
Cotton is one of the most widely grown crops in the world, and conventional cotton is one of the most chemical-intensive crops, which has serious consequences for the Earth's air, water, soil, and climate – not to mention the health of farm workers and cotton processors. Organic cotton is grown, processed, dyed, and finished with methods that focus on building ecosystem health and reducing the use of toxic pesticides, synthetic fertilizers, and hazardous processing chemicals.
What were some of the greatest challenges identified by researchers?
Sixty percent of the respondents noted weeds as the most critical pest management issue and 90% cited weed management within the three highest-ranked constraints. Among the weeds cited within organic cotton fields were (in order of abundance): bindweed, pigweed, lakeweed, Johnson grass, morning glory, nut grass and crabgrass.
While insect pests were not cited as being as challenging as weed management in organic cotton, the results showed the importance of bollworm, aphid and thrips management (Table 3).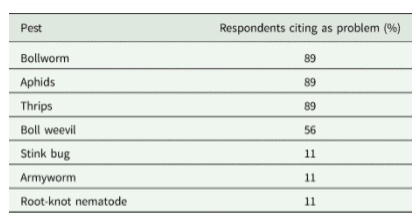 Twenty percent of producer respondents reported issues with contamination from genetically modified (GM) seed in their organic cotton crop, with levels between 2 and 10 percent. Contamination of organic cotton with any GM material is costly to organic growers. A GM-positive test can result in growers and other organic stakeholders having to invest time and money to identify the cause of contamination, conduct additional tests, and engage insurance companies and certifiers to remain compliant. In some cases, the product may be rejected and if the certifier determines an excessive contamination level the organic land may have to undergo a 3-year conversion period – or they may revert to conventional production.
Other challenges to organic production respondents cited included climatic conditions, such as extreme weather events, inadvertent pesticide contamination, and market access.
What were some of the greatest benefits that organic cotton production offers? 
Instead of using harmful synthetic pesticides and fertilizers, organic cotton farmers use cover crops like clover, rye, and other crops as rotational crops, to manage soil nutrition, soilborne diseases, and pests.
In fact, the range of organic practices cited in survey results include not only the use of cover crops, but also rotational crops, trap crops, entomopathogens, and use of insect and disease-resistant or tolerant varieties.
The researchers also learned that 40 percent of surveyed farmers found an increase in beneficial organisms on their farms since adopting organic practices.
What other research do you think needs to be undertaken?
More research should focus on overcoming the challenges that organic growers and processors face, because organic cotton is an excellent environmental alternative to conventional production.
Specifically, the researchers suggested:
participatory efforts to breed higher-yielding organic cotton varieties with specific characteristics that differentiate organic from conventional cotton.

 

improved methods of organic weed management, such as flame or electric weeding that maintain soil quality, will also contribute to a more robust organic cotton industry in the USA

an in-depth analysis of current organic cotton marketing structures be undertaken, including the economic and social benefits of collective vs individual marketing, and methods to increase the number of cotton co-operative members. 
Director of Science Programs
Website:
https://www.organic-center.org/site/environmental-footprint-organic-cotton
Professional Services|Supplier / Manufacturer