2023, Docu-stories
Building Reciprocal Relationships with Ancient Forests, from the Frontline in British Columbia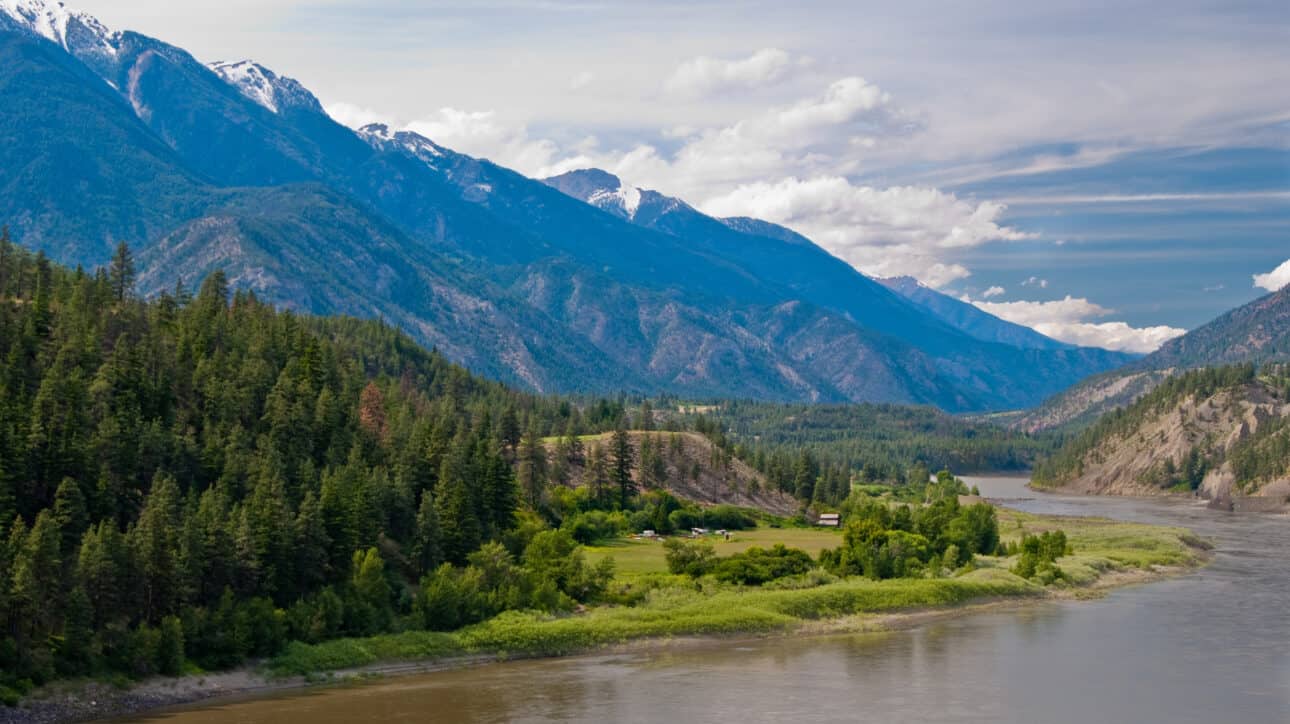 Maia Wikler is a writer, filmmaker, and climate justice organizer based in British Columbia, Canada. As a PHD researcher, Maia focuses on memory as a tool of resistance and resilience in the face of corporate abuse, specifically in relation to deforestation and the climate crisis.
This is the first edition in our new series of Docu-stories, where storytellers unearth the impacts of textile production on people, culture, and nature, in places that matter to them.
Here, Maia tells of the Indigenous communities and local researchers on the front line in British Colombia, fighting to rescue the remaining ancient trees from the logging industry.
On the furthest reaches of Vancouver Island, where ancient forests have grown into ecological abundance over thousands of years, forestry corporations are rampantly logging what little remains of these trees. Scars by clear cuts mark the Global North, and British Columbia, Canada is home to some of the last ancient temperate rainforests in the world.
Mark Worthing, a Vancouver Island resident and long-time organizer for the protection of forests, has been in a race against the logging industry to track and find some of the last stands of ancient trees. The old-growth forests that logging companies are after are home to cedars, firs, and spruce that tower over 200 ft tall and are several hundred years old. Their sky-high canopies sustain a realm of life and biodiversity that thrives only in old forests.
Worthing's investigative fieldwork takes him into remote and rugged regions of Vancouver Island, the easier-to-access ancient forests were clear-cut years prior. With less than 3% of old-growth trees left in British Columbia, the insatiable demand by logging companies brings their operations to areas that are accessible only by barge or helicopter. Worthing believes commercial logging to be one of the most impactful landscape-level experiments ever done in North America. "It is our tar sands," Worthing says, referring to a massive site of oil extraction in Alberta, Canada that can be seen from space and is one of the largest industrial projects in the world.
The destructive force of industrial logging spans its entire operation. "Logging roads are the fissures and fracture lines in contiguous ecosystems that serve as the central veins for healthy watersheds, species, and communities," he explains. The impacts range from micro to macro levels, from the invasive species brought in on the tires of logging trucks and glyphosate sprayed throughout clear cuts to eliminate species diversity for mono-crop tree farms, to drillers who bore into bedrock with dynamite to blow up rock for gravel, which is then used to construct the logging roads. It is a violent, destructive operation fueled by explosives and government-subsidized incentives.
"Logging roads are the fissures and fracture lines in contiguous ecosystems that serve as the central veins for healthy watersheds, species, and communities."
Worthing bears witness to a level of environmental destruction that few will ever see while forestry corporations benefit from its remoteness. He describes the degree of waste he has observed from clear cuts and poorly constructed, abandoned logging roads that spur landslides and destabilize entire mountainsides. Today, logging engineers use military-grade lidar surveys to find where the best single trees are and can gauge how much timber is in the tree from a helicopter. Like predator and prey, forestry has taken to the skies to hunt down these last giants.
The pace and scale of industrial logging are impossible to keep up with. For the last two field seasons, Worthing spent months finding mother trees, high alpine berry patches, culturally modified trees (CMTs), and an array of forest sites to support The Mother Tree Project. CMTs are often modified by the process of cedar bark harvesting, a traditional technique implemented by First Nations to gather fiber from the bark of a cedar tree for an array of purposes, from ceremonial to weaving watertight baskets and regalia. Launched in 2015 by Dr. Simard, the Mother Tree Project is a long-term research initiative to "identify future forest management practices that will help forests remain productive, diverse, and resilient as the climate changes," according to the University of British Columbia,
Worthing was responsible for guiding Dr. Simard's field team to ideal research sites in July. Each researcher had certain site specifications, for example, some wanted to compare soil carbon in old-growth and tree plantations. Worthing spent weeks in the forest during March and April searching for critical ecological sites and mother trees so that by the team arrived in the summer, they wouldn't lose time in the field. Simard, who coined the term 'mother tree' has described them as the largest trees in forests that act as central hubs for vast below ground mycorrhizal networks and support young trees or seedlings with essential nutrients. But the logging industry thwarted Worthing's fieldwork. "7 out of the 10 Mother trees I found or old-growth locations I was going to take students into for biodiversity research, were gone by July," Worthing shares. "These forests are libraries of ancient data. Yet we are still logging them faster than we can even study them, that's what breaks my heart over and over."
"These forests are libraries of ancient data. Yet we are still logging them faster than we can even study them, that's what breaks my heart over and over."
Worthing's work not only supports Dr. Simard's lab but also the Awi'nakola Foundation: Tree of Life Project, founded by Mak'wala Rande Cook, Hereditary Chief for the Ma'amtagila Nation in Kwakwaka'wakw Territory and renowned artist. Awi'nakola is comprised of a diverse network of scientists, artists, Indigenous youth and elders, and journalists. The approach of Awi'nakola (pronounced A-weet-nah-kyoh-lah) is in its name, Cook explains, "Maya'xala xan's Awi'nakola is a Kwak'wala phrase that my elders use, which means respect and the environment. But respect in our language is a verb, so for my foundation, we are a team applying actionable respect for the land. We bring youth out, scientists from the Mother Tree lab, and elders; we have a big community."
Awi'nakola's larger goals are to restore and reconcile relationships with people and the planet by restoring forests and ecosystems while advocating for a moratorium on old-growth logging. But an urgent focus for Awi'nakola is the destruction of cultural heritage by the logging industry, which entails logged culturally modified trees, midden sites destroyed for log dumps, and ancient traditional trails converted into logging roads.
Nations have used evidence of culturally modified trees from cedar bark harvesting in their ongoing litigation, such as the Nuchatlaht Nation which must provide evidence of the use of their traditional territory in the courts for their title case. But the logging companies are destroying this cultural heritage faster than many communities can formally document it. Ancient forests are living witnesses to Indigenous stewardship and presence on the land before the occupation of colonialism.
Rande Cook grew up in the small village of 'Yalis (Alert Bay, BC) where he was raised off the land and could go into traditional territories to clam dig, hunt, and listen to elders share origin stories. "Growing up and getting to know that land, and also seeing the destruction of it throughout my lifetime has made me very concerned," Cook shares. When he turned 30, he became a Chief. "[When] I took that role on, I had to ask serious questions about what it means to be a Chief and the obligations we have to the land. If we can't look after the land, then we can't look after our people." He hopes for his children and other Indigenous youth to carry on a sense of stewardship and identity that he found as a kid.
"If we can't look after the land, then we can't look after our people."
Last field season, Cook brought his ten-year-old son with him to accompany the Mother Tree students from UBC. While tree core sampling and conducting archaeological digs, the students would ask his son if they could core a tree or dig somewhere. Cook recalls, "[Ethan] came up to me and said, "Dad, why are they asking me?' I said, 'because we are here of service to you son, this is your future on this land." It was a really defining moment for all of us because if we can get youth on the land and they start to deepen their own roots, they're going to look after it and apply these teachings." Cook sees working with youth as being similar to the process of forest regeneration, just like stimulating seeds to contribute to the health of a forest, youth are being stimulated as stewards and becoming part of a collective ecosystem.
The collaboration between Awi'nakola and the Mother Tree Project also yields groundbreaking research. Cook recalls a pivotal moment when he walked with Dr. Simard through a forest that had culturally modified trees and he shared with her the stories, ceremonies, and knowledge about the cedar bark harvesting process.
He explained that when the bark is pulled it releases energy and connects that person to the tree and forest for the rest of their life. Together, Dr. Simard and Cook examined the surrounding areas of CMTs. "[They] were abundant in everything you could think of, from berries and plants to incredibly rich soil, which is also a sign of carbon sequestration. Just that one act, ignites and stimulates the area," Cook shares. Dr. Simard explained to Cook that if one tree is in distress, other trees in the mycelium network start firing nutrients in the direction of the tree to protect it. Indigenous stewardship has always known this scientific discovery, but the breakthrough bridges these worlds and shows how important CMTs are to the ecosystem.
The protection of old-growth and the regeneration of impacted forests necessitates a collaborative, holistic approach. Jessica Hutchinson, a field ecologist and the executive director of Redd Fish Restoration on Vancouver Island, believes restoration offers a glimmer of hope as it rebuilds fragmented relationships and finds a way for humans to work with nature.
We've noticed ecosystems we work in that have not been logged are way more resilient to climate change than those that are.
Hutchinson and her team work to restore declining salmon stocks, biodiversity, and hydrological and ecological processes that have been impacted by the logging industry. She explains, "Healthy forests are the backbones of our coastal rivers. We've noticed ecosystems we work in that have not been logged are way more resilient to climate change than those that are. [Watersheds] with old-growth forests, even just on one bank of the river, are doing better than those that have no old-growth forests. These forests are so critical to geomorphology, hydrological conditions, ecosystems – everything."
For Mark Worthing, the stakes of ongoing deforestation are inherently high. "Easily we can understand the impacts of forest loss on biodiversity and resilience in the face of climate change, but what about our capacity to live culturally rich lives? This fight for ancient forests is the opportunity to reinvent ourselves in ways that are informed by the past. You can easily make a tree farm, but 10,000 years of glaciation and human stewardship is not replicable, these ancient forests as they are today, are a one-time thing."