2023, On the Ground
Farming Wool for the Health of the Land with Lanas Trinidad
On the Ground is a short interview series that puts the voices of farmers, producers, and suppliers at the forefront of conversations about responsible materials production.
The interviews are hosted by La Rhea Pepper, Textile Exchange's Co-Founder, and Catalyst. As a fifth-generation organic cotton farmer from West Texas, La Rhea holds a strong personal connection to the land and has seen first-hand the environmental impacts of growing fibers and materials.
Audio
Listen to the interview
In this episode, La Rhea speaks with Pedro Otegui, the third generation of his family to be working at Lanas Trinidad, which is the leading producer and exporter of scoured wool and combed wool tops in Uruguay. The company started over 100 years ago in 1916, and today, it embraces tradition while also striving to pioneer best practices for a resilient future, infusing environmental and social responsibility into the fabric of its business.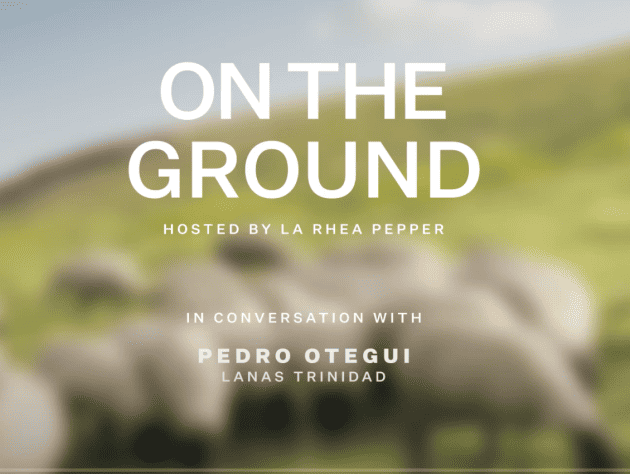 La Rhea: It's a pleasure to speak with you, Pedro, and to learn more about your work with wool. For starters, where exactly is Uruguay, and how does it play an important role with wool?
Pedro: Uruguay is in the south of South America. We have two neighbors – Brazil and Argentina, and we're facing the Atlantic Ocean. I live in our capital city, Montevideo. I go to the farms from time to time, but mostly I work in the office.
La Rhea: Lanas Trinidad is a family business dating over a hundred years. Can you share a little bit more about the company's history?
Pedro: My ancestors came from the Basque country, Spain in the late 1800s. We're now the fourth generation of my family to work with wool. A French company, Chargeurs, has since joined the family business, and we are now partners.
We are lucky to have farmers here in Uruguay, and then 95 – 99% of our market is abroad. It's really a fantastic job, as every day we are in contact with farmers here, and then also with our customers (normally spinners or weavers), spanning different continents, different countries, and different cultures.
In the 1950's, my father began exporting greasy wool after the war, visiting customers mostly in Europe and in the States. In the 1960's, the family started a scouring plant, and in the 1970's, a combing mill. Back then, there were five business principles: quality, quantity, price payment terms, and shipping.
Now, there are so many key parts of the business that did not exist years ago. We started looking at industry accreditations, mostly on the ISO, thinking more about our social responsibility, labels, animal welfare, and how we take care of the environment. These things are now our pillars.
La Rhea: Yes. And can you tell me a little bit about how you're innovative with water? You actually built a dam.
Pedro: Exactly. We used to get water via the national network. But over 20 years ago, we collaborated with a farmer near the city of Trinidad. If the summer were dry, he would face problems due to lack of water, and the national network in the city said we would have to stop the water service if the situation worsened.
So, we thought we would find a better alternative. Lanas Trinidad made a deal with that farmer and built a dam on his farm. He could then get water for farming, and we could access as much water as needed, too.
La Rhea: Wow. This is very proactive and progressive, sharing with the farmers for water security and providing water to support biodiversity, too.

So, you have over 338 farms certified for wool. What do you feel like this access has done to help promote healthy markets for the farmers? And what do you see as opportunities going forward?
Pedro: I should say first that we really appreciate Textile Exchange's work in the wool market. Your organization was not initially involved in wool, but the development of the Responsible Wool Standard (RWS) has overall improved the wool business. Especially paying attention to social responsibility, caring for the environment, and animal welfare. We are convinced by these things. As you realize, many of these things that people are talking about today, we started more than 20 years ago.
La Rhea: You're definitely a pioneer. Thinking about your relationships with local farmers, what efforts do you make to support and incentivize them?

Pedro: Most of the wool we buy every year comes from the same farms, so we have a close relationship with our farmers. The RWS protocol has really helped us to support everybody with a common language, as some farmers know exactly what to do, while others do not know the order of priorities. Our team knows the protocol by heart, and they help farmers prepare for certification body farm visits.
We have more than 300 farmers in the system, but it's very important that they are free to sell their wool as they like. If tomorrow a farmer comes and says, "I'd like to sell to you, but I got this price from another competitor," they are free to choose. When the price of wool is good, they have an incentive to produce more wool. But when the price isn't good and they see better opportunities with rice, soybeans, or forestry, they go there. Once they quit wool, it's highly unlikely they will ever come back.
For agriculture, you buy seeds, plants, and harvest from one year to the next. But for cattle, sheep, and forestry, you need years. If you are working with animal genetics, you need a lot of time.

La Rhea: Yeah, there's so much that goes into building a strong, stable supply of high-quality wool – healthy animals on high-quality, healthy land. What is your vision for the future of Lanas Trinidad?
Pedro: Well, the world population is growing and growing, with millions of new consumers coming into the market every year. So, we need more textiles, but what kind of materials?
We can see the glass half empty, half full – if we are sure that more people will choose to buy clothes from more natural fibers, taking care of social responsibility and many other things, the future is great. If, on the other hand, people buy by price and no one cares what is going on with pollution, then the future is more complicated.
La Rhea: No doubt about it. It's a real challenge, and this is why we need to tell the story and show the true benefits and value of taking care of land, people, and animal welfare.