Help us improve our benchmarking program
This month, our Corporate Benchmarking Team will start the stakeholder consultation phase of our program review. We are inviting anybody and everybody to tell us what you love about our corporate benchmarking program, what you would like to see us improve, and where you think the next opportunity for corporate benchmarking lies. Now is the time to ensure we add value to your work in preferred materials and support you in meeting ambitious goals for people and the planet.
Company Feedback
As a practitioner, there will be a number of ways to engage in the consultation phase over the next few months, including via focus group dialogues, one-to-one calls, and by completing the participants online feedback form. Please submit your response by Friday 18th February 2022.
Thanks to your feedback via the online form, we can collect a lot of data systematically. We'll keep your responses confidential, and we'll share the results back to the benchmarking community in an aggregated and anonymized format. The online form is also the place to express your interest in our focus groups and one-to-one calls with CFMB Team members, Liesl and Hayley.
We appreciate you taking the time to share your thoughts with us. As always, make sure to get in touch if you have any questions or would like any further information about the process.
Community Feedback
Alongside participant feedback, we are reaching out to others in our wider community that have knowledge and experience in a range of related areas, from materials and industry sustainability to climate and biodiversity, ESG and impact investing. We want to be sure the benchmark program aligns, complements, and/or avoids unhelpful duplication with other important initiatives within our community.
If you can help us here, we would love to hear from you. Once again, there are multiple ways to engage, starting with our community online feedback form. Please submit your response by Friday 25th February 2022.
2021 Scorecards & Results Update
We know that many of you are waiting with anticipation to receive your 2021 Creating Material Change scorecards, which will be in your company portal in March.We'll also be circulating a communications kit, so you have everything that you need to share the news. Watch the Hub for updates!
This year, we'll be splitting the release of your scorecards, the MCI Leaderboard, and the Impact Dashboard updates from the publication of the Insights Report, which will be released in May.
Introducing Madeline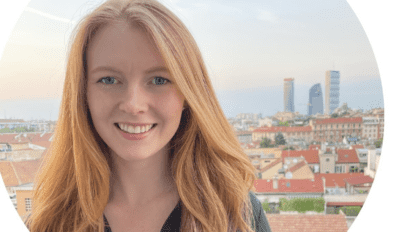 I am originally from Wisconsin, USA, but currently living between two worlds, Wisconsin and Italy. I joined the Corporate Fibers & Materials Benchmarking team at the start of this year to further assist in the expansion of our benchmarking program and support the integration for preferred fibers and materials within the fashion industry.
My past education in fashion focused on sustainability and the desire to make a positive impact, therefore I furthered my education and earned an MBA in Sustainable Fashion Management at the Sustainability Management Business School in Milan, Italy. Over the years, I have supported a range of projects and initiatives relating to raw materials, product development, technical design, and marketing for fashion companies such as Oscar De La Renta, AquaFlor Firenze, and Ann Taylor. This grew my passion specifically in textiles, transparency and traceability, sourcing sustainably, and biodiversity.
I am very excited to be joining a company that is driving change within the fashion industry and I look forward to working with everyone!
Best wishes,
Madeline Heun, Program Coordinator
On behalf of your Corporate Benchmarking Team: Liesl Truscott, Hayley Warren, Jessica Garcia Lama, Prerna Pandey, Theresa Hamilton, and Marissa Balfour