Insider Series, Member Spotlight
Gap Inc.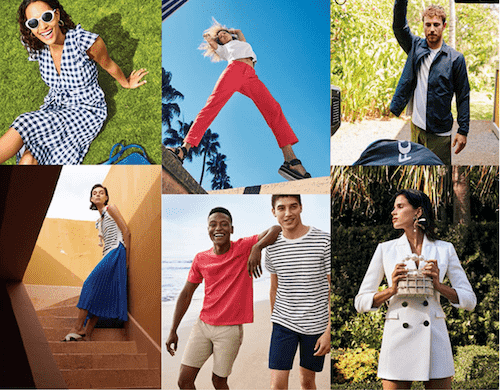 This spring, the leading global retailer Gap Inc. unveiled new commitments from two of its five brands, Gap and Athleta, to accelerate the use of more sustainable fibers in apparel production within the next five years. The goals were announced in advance of Earth Day last April.
Gap, the company's namesake brand, announced a new commitment to obtain 100% of its cotton from more sustainable sources by 2021. To achieve its new cotton goal, Gap will continue to partner with Better Cotton Initiative (BCI). BCI works with farmers around the world to improve cotton production for the people who cultivate it, the environment, and the cotton sector's future. The brand sourced 3.8 million pounds of Better Cotton for Spring 2017 product. Gap's new commitment also includes the use of other sustainable cotton such as organic, recycled and American-grown.
We believe in actively protecting the planet we all share,
shared Gap's Chief Product Officer Wendi Goldman, who serves on both the Gap Foundation Board of Trustees and Gap Inc.'s Sustainability Board.
For Athleta and our community, the Earth is our playground, and we believe it's vitally important to protect it for the next generation,
Gap's cotton goal is part of the brand's Gap for Good platform for more sustainable fashion, which also includes saving water and reducing energy consumption, as well as educating and empowering women through Gap Inc.'s signature life skills and education program, P.A.C.E. (Personal Advancement & Career Enhancement).
Gap Inc. recognizes the importance of improving the sourcing of cotton, which is one of the most water-intensive crops globally and impacts the lives of millions of people around the world; a significant portion of the fabric used by Gap Inc. brands is cotton. Collectively since 2016, Gap, Banana Republic, Old Navy and Athleta have sourced more than 11.5 million pounds of Better Cotton – enough to make 7.4 million pairs of jeans.
Athleta, whose assortment predominantly features technical fabrics, announced a series of sustainability goals including a commitment to use fibers that are better for the planet: by 2020, 80% of the brand's apparel materials will be made with sustainable fibers.
With our new sustainable cotton goal, we have the opportunity to make a big impact on the global cotton community, and bring to light what's so incredibly important to the future of garment manufacturing, what matters to us as a brand, and what matters to our customers.
said Nancy Green, president and CEO of Athleta, who also serves on both the Gap Foundation Board of Trustees and Gap Inc.'s Sustainability Board.
With the use of more recycled and sustainable fibers, we're working to lessen our impact on the environment and preserve the Earth's precious natural resources. Using our business for good is central to the mission of Athleta.
Athleta has been working to aggressively increase its use of sustainable materials over the last two years by converting materials to recycled synthetics, organic cotton, TENCEL and Lenzing Modal. These more sustainable fibers are transformed into high-quality, high-performance fabrics in many of Athleta's signature styles. The brand will meet its new 2020 goal through a focus on partnering with fiber and manufacturing suppliers on innovative solutions
In 2016, seven million plastic water bottles were diverted from landfill as a result of Athleta's use of recycled polyester.
The sustainable fiber goal is one pillar of the brand's expanded sustainability platform, which also setting goals to use more efficient fabric dyeing and finishing techniques to save water; to help empower the women who make its clothes; and also reduce waste at the brand's stores and HQ operations.
As an enterprise, Gap Inc. recognizes there is more work to be done, and continues to explore new to address the raw material impacts of its supply chain. Most recently, in July, the company announced a new company-wide policy to eliminate the sourcing of wood-derived fabrics from ancient and endangered forests by 2020, partnering with the non-profit organization, Canopy, as part of their sustainable fashion and forestry initiative known as CanopyStyle.
Gap Inc. is also taking action as a global retailer to reduce its environmental footprint across its supply chain. By the end of 2020, Gap Inc. has committed to a 50 percent absolute reduction of greenhouse gas (GHG) emissions in its owned and operated facilities globally from a 2015 baseline, and to divert 80% of its waste in the U.S. Since 2014, Gap Inc.'s suppliers have saved more than 750 million liters of water– that's enough to provide every person in the U.S. with one days' worth of drinking water.
Nancy Green, President and CEO, Athleta
Website:
Cotton|Not fiber specific