The Responsible Down Standard aims to protect ducks and geese used for down.
The Responsible Down Standard incentivizes the down and feather industry to treat ducks and geese humanely and rewards organizations leading the way. The standard also gives companies and consumers a way to know what's in the products they buy.
GOALS
We're helping companies to ensure that down and feathers don't cause unnecessary harm.
Ensure to the highest possible standard that down and feathers don't come from animals that have been subjected to unnecessary harm.

Incentivize the down and feather industry to treat ducks and geese humanely.

Give companies a way to know what's in their products, and to make accurate claims.

Ensure strong chain of custody for certified materials as they move along the supply chain.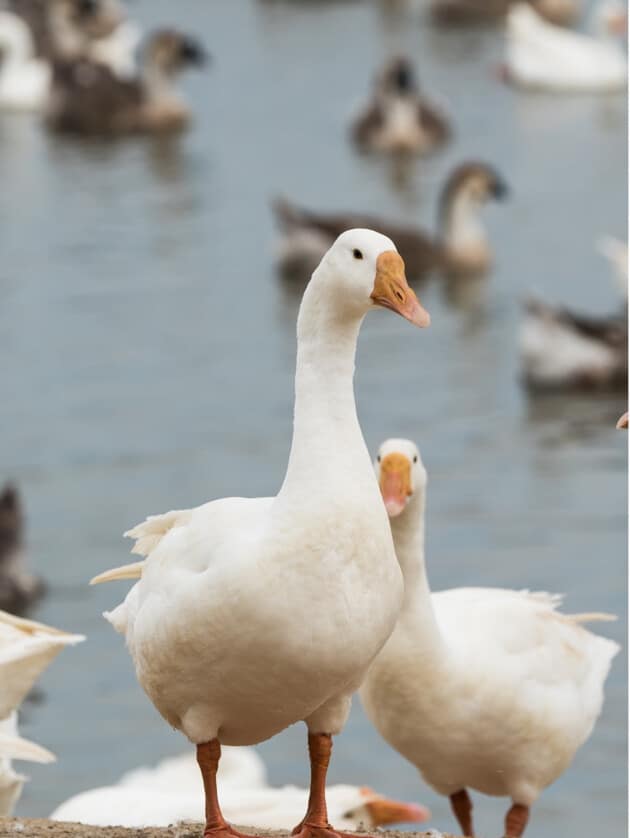 Resources
Dive deeper into the RDS
HISTORY
Explore the development of the RDS
In 2017, we began revisions for RDS 3.0, and the updated standard was released on July 1, 2019. For a summary of the comments received during the Public Stakeholder Review period, you can take a look at the RDS 3.0 Consultation Feedback Summary. The next revision will be part of our wider move towards a single unified standard.
Frequently Asked Questions
If you have a question not answered here, get in touch with us directly, and we'll be happy to answer it for you.
Are Textile Exchange standards recognized globally?
Yes, all our standards apply globally. You can use our logos worldwide as long as you meet the requirements for logo use and claims.
Do you have translations of your standards available in other languages?
Visit the Document Library to see all standards documents. For some, translations are available.
Can I use your standards to know the identity of a farm for down?
Our standards aren't designed to provide full supply chain transparency. If you're interested in doing the work of identifying all of sites, then you need to work directly with your suppliers and request that they disclose their sources to you. We are working on the development of a traceability system, however. You can learn more here.