Transitional Cotton At-a-Glance
"In-conversion" cotton is produced by farmers moving towards organic practices.
Demand for organic cotton has increased dramatically in recent years. Without a plan to turn more conventional land into organic land, brands may not be able to ensure a future supply. When farmers make the switch to more organic practices, there's a period when the cotton they produce isn't certified. This is what we call "in-conversion" or "transitional" cotton.
CHALLENGES
Farmers need clear signals that there's a market for in-conversion.
Cotton production can be chemically intensive, and pesticides used on cotton can contaminate the soil and surrounding water. That's why organic matters. But for farmers to make the change, they need to know there's a market for the in-conversion cotton they produce in the intervening period. Farmers therefore need clear signals from the industry that making the switch is commercially viable.
SOLUTIONS
We're urging brands to show farmers that the move to organic is worth their while.
By helping to educate the fashion and textile industry about in- conversion cotton, we're showing cotton farmers that a market exists for their product. The more that brands can demonstrate their intent to source in-conversion, the more confidence farmers will have producing it.
OCS

Our industry standard for organic content
The Organic Cotton Standard (OCS) is our international voluntary standard that sets requirements for third-party certification of organic input and chain of custody. In January 2021, we released guidance that permits in- conversion material to be verified under the OCS, as long as the standard isn't referenced in public-facing claims.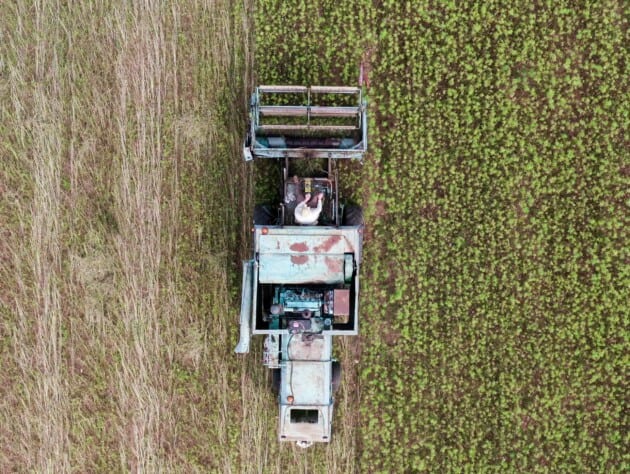 Resources
Dive deeper into in-conversion cotton
FAQs
Find the answers to questions about in-conversion cotton.
If you have a question not answered here, get in touch with us directly, and we'll be happy to answer it for you.
Do yields change during the in-conversion years?
Because farmers can no longer use quick fixes like conventional pesticides and synthetic fertilizers, they may experience a temporary drop in yields while they give their new organic systems the chance to develop healthy soils and adopt non-chemical pest management methods. Without support or longer-term guarantees of a market, converting to organic is a big risk for farmers. That's why it is vital that farmers are supported in this time.
LEARN MORE
Explore the rest of our resources
Can't find what you're looking for? You can access all documents and webinars relevant to our standards through our knowledge center.