Insider Series
Orange Fiber
Q: So who is Orange Fiber?
The company, founded in February 2014, is composed of 5 members: Adriana Santanocito, CEO & founding partner, specializes in innovative textile design, Enrica Arena, marketing and communication specialist & founding partner, Francesco Virlinzi and Antonio Perdichizzi, entrepreneurs, Corrado Blandini, lawyer. Four collaborators complete the team: an industrial chemist, a textile process expert, a financial and management advisor and a social media specialist.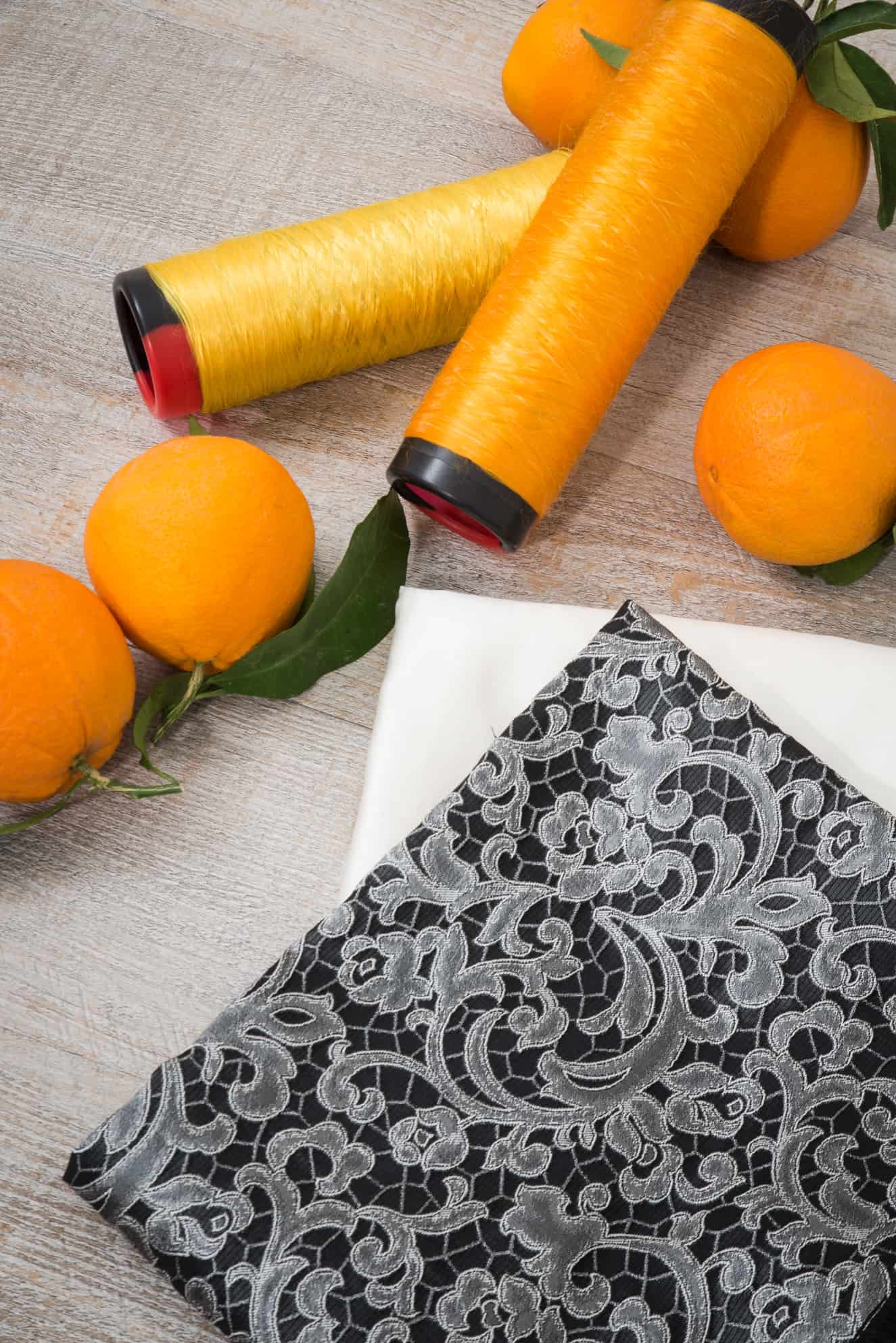 Q: How did you start out?
Following a collaboration with Politecnico di Milano University back in 2012, we developed a process to create a fabric using the leftovers of the citrus transformation industry. We have patented and produced an innovative fabric from citrus waste. In 2014, on Vogue Fashion's Night Out, we presented the first prototypes: a lace-like fabric blended with silk and another blend more similar to satin. In December 2015 we opened our first pilot plant to enjoy savings in product logistic and to produce the material for our first order. We have produced new prototypes very similar to silk, with a soft, drapery, light feel. They can be colored and
printed as traditional fabrics (inkjet printing and natural colors included).
Q: So where does all this happen?
The first part of our process takes place in Sicily, where citrus cellulose is extracted, then our raw material is sent to our Spanish spinner partner and finally it comes back to Italy (in Como), where another partner transforms it in our exclusive fabric.
Q: Don't you compete for land with food production?
No, compared to existing man made fibers from cellulose, either from wood or from hemp and bamboo, our fiber does not require dedicated yields alternative to food consumption, but reuses a waste thus saving land, water, fertilizers and environmental pollution.
The very first fashion collection made with the exclusive Orange Fiber fabric was launched on Earth Day 2017 by Salvatore Ferragamo – one of Italy's top fashion brands and a world leader in the luxury industry – in a collaboration that represents the shared ethical values underlying
the project, shaping the fabric and showcasing its potential for elegant and sustainable applications.
Q: And you are gaining other influential supporters?
Yes, Orange Fiber is now a portfolio company of FTL Venture Inc., the global venture capital fund founded by prominent fashion and digital entrepreneur Miroslava Duma that helps new technologies and sustainable innovations create products and brands to evolve the fashion industry and help reduce its social and environmental footprint. Miroslava Duma is a member of the Orange Fiber advisory board.
Q: How are you funded?
So far we have raised more than €300,000 in a mix of public funding and private business angels.
We have recently been awarded €150,000 as the winner of the Global Change Award by the H&M Foundation. The Global Change Award aims to find disruptive ideas that can help to protect the earth's natural resources by closing the loop for fashion – our project was selected as one of the five winners by the expert jury from over 2,700 projects coming from 112 different countries.
Q: What is your vision for the company?
At Orange Fiber we want to establish
ourselves as the first Italian mover in the segment of sustainable fabrics through the "green" production of cellulosic fabrics from renewable sources and to create a highly recognizable textile brand for its commitment to environmental protection and transparency.
Website:
Manmade Cellulosic Fibers