Q: What does a "preferred fiber portfolio" look like for prAna?
Currently, we define a preferred fiber portfolio as using the best practices in natural and synthetic fibers available on the market that use green chemistry. Lucky for us, being able to tap into the awesome service of the Textile Exchange Preferred Fiber Reports allows us to be mindful of our total fiber usage and the percentage we are purchasing, which is a key instrument that we use to set goals for future fibers. In the past, we have used a materials thermometer coupled with customer insight data to strategize and prioritize the fibers we could use as a best practice on the market, and how to have the most impact. This directly influenced our ability to commit to 100 percent organic cotton and achieve it.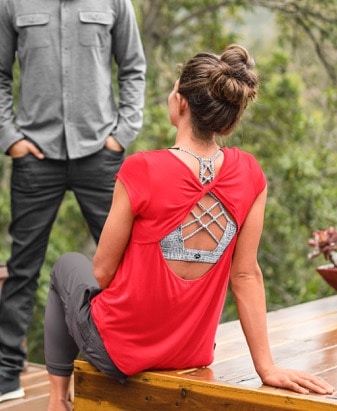 Q: Where are you now on your cotton journey?
This year we are excited to announce that our Spring 18 collection represents the last step in our conversion to 100 percent organic cotton. This has been a long journey for prAna ever since we learned about the impact of insecticides and pesticides on not only the soil, but also the farmers, for conventional cotton.
At prAna, we not only consider the best practices in the raw materials we use, but are also committed to hiring sustainable vendors to expand our values that all humans should be treated equally and have access to their basic needs. Therefore, we directly microfinance (See: Why Organic Matters — Sustainable Clothing Movement) an organic cotton farmer co-op in India that allows farmers to purchase cotton seeds and supplies interest free each season. This means the farmers can avoid high interest rates on bank loans, which have contributed to one
of the highest farmer suicide rates on the planet.
Our Spring 18 collection represents the last step in our conversion to 100 percent organic cotton. Our commitment to replacing all conventional cotton in our products speaks to the continued momentum of the Sustainable Clothing Movement and the drive to lessen our impact on the planet.
Q: How important are man made cellulosics for prAna and what are you doing in this area?
prAna's journey to eliminate use of rayon/viscose was not an easy one and there were a lot of valuable learnings along the way that we would love to share with others. For example, how we devised a plan, built internal and external stakeholder partnerships, overcame challenges and obstacles, and streamlined the process.
At prAna, we are passionate about our Forest Fiber Policy and elimination of rayon/viscose because it directly supports SDG 15, and rayon is hands down one of the dirtiest fibers (from an environmental perspective) in the apparel industry.
Having a strong forest fiber policy means we are not supporting poor land management, deforestation, or illegal logging, which all ultimately impact biodiversity.
Q: What's on the horizon?
A lot! We are always working to improve our internal sustainability plan that pushes us to constantly innovate and use the business platform for change, while at the same time holding us accountable on an annual basis. The ultimate goal is to create product that promotes a circular economy and ensures that we continue to serve the prAna customer by creating ethical product that promotes positive social and environmental impact.
Website:
http://global.prana.com/about-us/sustainability.html
Cotton|Not fiber specific