Q: Does recycled cotton generate more waste during production than virgin cotton?
The total waste percentage in the Recover process is ±15%, 5% in the recycling process and 10% in the spinning process. Not much more than when spinning virgin fibers, where there is ±8% waste. Most of our waste fibers are collected and going to downcycling applications (e.g. insulation).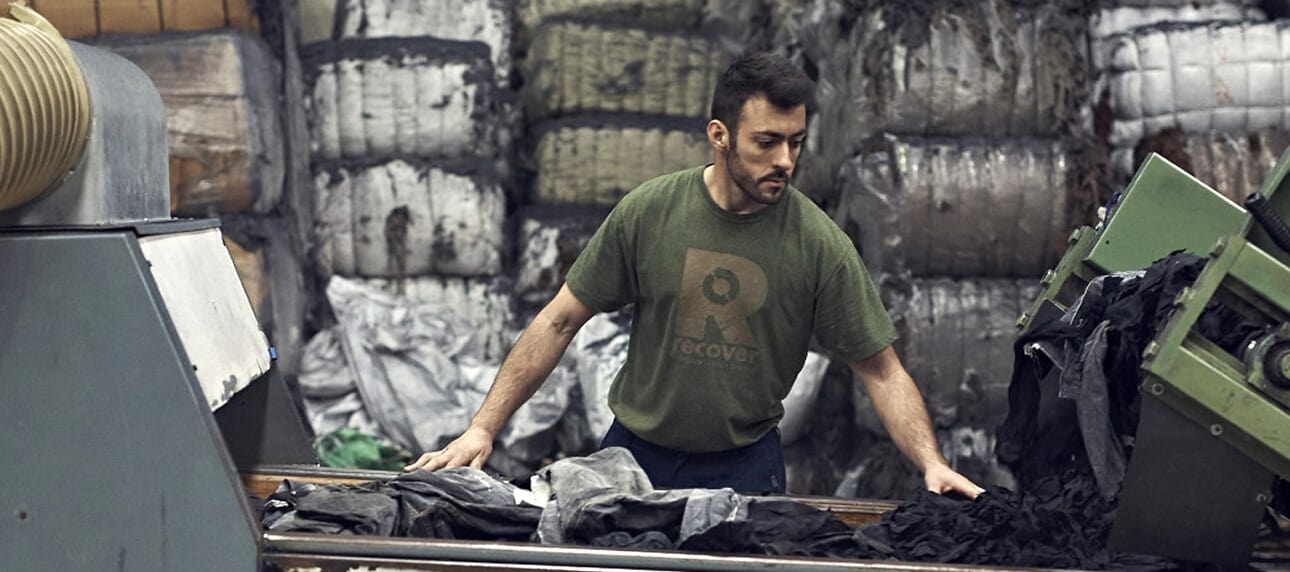 Q: How does Recover's recycled cotton compare to virgin?
We always say that Recover yarns are a 'different animal': to say that it is virgin or near virgin quality might give the wrong expectation. We are confident that Recover yarns are among the best quality recycled cotton yarns out there but we cannot claim to be like virgin quality – not only in things like pilling performance but also due to the recycled nature, our yarns perform differently in many ways (e.g. less shrinkage etc.).
This should be better understood by the market, and it is part of our journey to educate the brands/retailers and supply chain on this. Even though it is not virgin quality we are confident about 100% commercial viability, and performance is for sure good enough for apparel and other applications.
Supply chain (knitters, finishers) also have a great role to play in optimizing the quality of fabrics made with our yarns. We can for sure achieve a standard that is perfectly acceptable for the market. What's more there are aesthetic advantages with Recover thanks to the unique ColorBlend process which is let's us create incredible color effects like mélange and heathers and is as accurate as any other dye-system.
Q: How about when it comes to price?
We are not familiar with all virgin cotton prices globally. We are comfortable to declare that in general Recover yarns are fully competitive with virgin options. Important note is that you need to compare the price with dyed virgin cotton yarns.
Q: What about capacity and the potential for growth?
Capacity No issue. Potential for growth: very large!
Q: And to the future – will brands be feeding post consumer waste into their own new recycled products?
Yes, together with brands we can divert all types of cotton rich textile waste into Recover+ closed loop yarns that can go back into the brand supply chain.
Q: How much virgin cotton can we conceivably save?
I wish I could answer that question! Foreseeably, it could be ±15% percent based solely on the volume of wastage from cutting.
Q: How many cycles can mechanical recycling be repeated before it needs to undergo chemical recycling or downcycling?
2-3 loops, but likely more depending on product performance needs. With every recycling cycle we need to blend with supporting fibers so therefore we can always upgrade the recycled material of any generation with supporting carrier fibers. Of course there is a limit to the quality you can achieve after many cycles, this must be considered.
CEO-Director General, Hilaturas Ferre/Recovertex
Website:
http://www.recovertex.com/