Welspun, in collaboration with MIT media lab – Open Ag, is working on a project to grow specialty cotton (long to extra-long staple) sustainably in the semi-arid region of Kutch District, of Gujarat State in India. This area is better known for growing medium staple cotton in open fields by farmers.
This collaboration with MIT was undertaken to support farmers of the region by developing appropriate cotton production technologies that factor in the current challenges related to climate change. Today, resources like healthy soil, water, and farm biodiversity have become scarce. This scarcity makes it challenging for farmers to sustain their livelihood as they can easily become trapped in the vicious cycle of debt caused by unpredicted rains (drought/flooding situations), pest problems, and the availability of genuine quality inputs.
The technology that we are using is Hydroponic. Initially, we started it in a reefer container using a completely controlled environment and providing artificial light to grow cotton. Now we have taken it to a bigger scale and are using natural light to grow cotton. Natural light is available in abundance and can help to bring down the cost of electricity in a greenhouse, which provides a controlled environment using a fan pad system. The temperature inside the facility is maintained between 25 and 38° C.
What is your main focus at the moment?
Our primary focus now is to further develop the concept into a commercial scale in terms of value and volume. We have graduated from a reefer container (fully controlled environment) using artificial light in an approximately 28 square meter area to research, prototype, and are testing new methods of high-density control environment cotton production, to a 1000 square meter area that is a fully automated greenhouse using fan pad cooling system and hydroponic techniques. In the process, we are also standardizing the growing recipes and also tweaking the scale of optimization for taking it to the next level. The next level involves growing in a one-acre low-cost shade net poly house that can be replicated in the farmer's field and ensure a better livelihood to the farmers.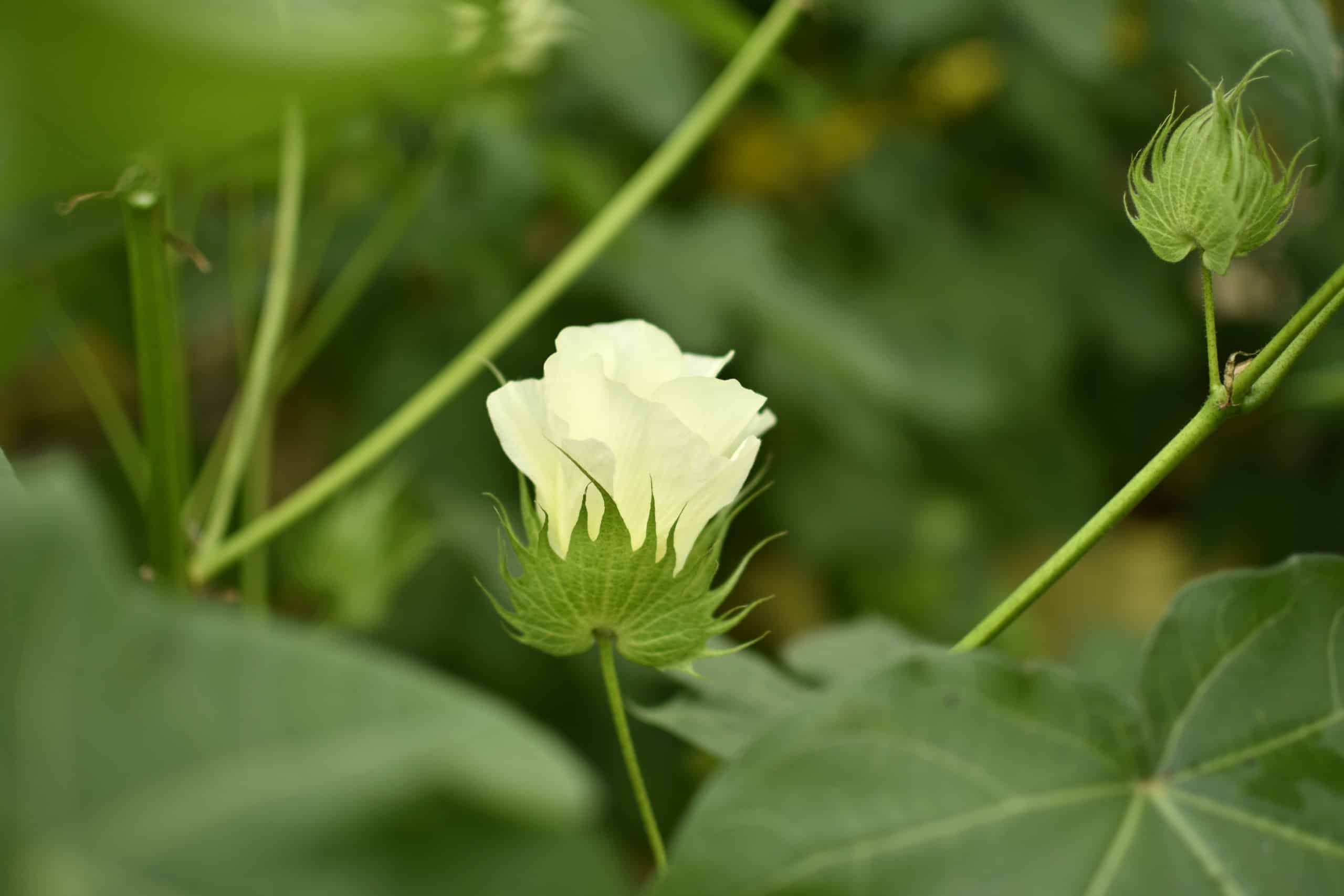 How is your project contributing to the SDG?
17 SDGs are central to the 2030 Agenda for Sustainable Development. Our project is making significant contributions to 12 SDGs. They are:
SDG 01: No Poverty – Improved yield and fiber quality will have a positive impact on profitability.
SDG 02: Zero Hunger – by improving livelihood and mitigating the risk of crop failure.
SDG 03: Good Health and Well-being – Near to zero pest and weed infestation, no synthetic chemical or herbicide spraying activities carried out.
SDG 04: Quality Education – a new concept for farmers, will require to handhold them with learnings and demonstration.
SDG 05: Gender Equality – No distinction of work (like heavy spraying of chemicals) will promote Gender Equality.
SDG 06: Clean Water and Sanitation – Treated water with pH as neutral is required to grow a hydroponic crop. Rainwater harvesting from the greenhouse structure is done to collect rainwater for growing and re-charging the groundwater through soak pits near the water source. The nutrient water is recycled and used again without wasting or draining them out into the field.
SDG 08: Decent Work and Economic Growth – Since it is precision work, it would require some level of skill to manage and operate the operation, which will give better returns to the workers as well as the grower. It also provides a better working environment with less physical hard/hazardous work to be carried out.
SDG 09: Industry Innovation and Infrastructure – If successful, the concept can be directly linked to a manufacturing facility that can produce and process cotton near the source and need not be sourced and transported from far off place, thus bringing down the cost. This innovation also requires structures that are built of good quality and last for at least a decade to recover the infrastructure cost for the farmers, as the initial capital investment for this type of precision farming will be a bit on the higher side.
SDG 12: Responsible Consumption and Production – Based on the spinning mills projection of quality and type of cotton requirement, the production plan can be carried out. No need to carry the cotton throughout the season and block the cash flow; this can help with wastages.
SDG 13: Climate Action – By reducing the duration of crop cycle by a month compared to the open field scenario in India, farmers will have less exposure to the vagaries of nature.
SDG 14: Life below Water- Since no chemicals are used in the growing of cotton and no direct application of synthetic fertilizers into the soil eliminates the percolation and runoff into the groundwater and also into the river/seas; thus, it does not affect the marine life.
SDG 15: Life on Land- Improves as zero tillage, no chemicals added; thus, it preserves the soil health and life on it.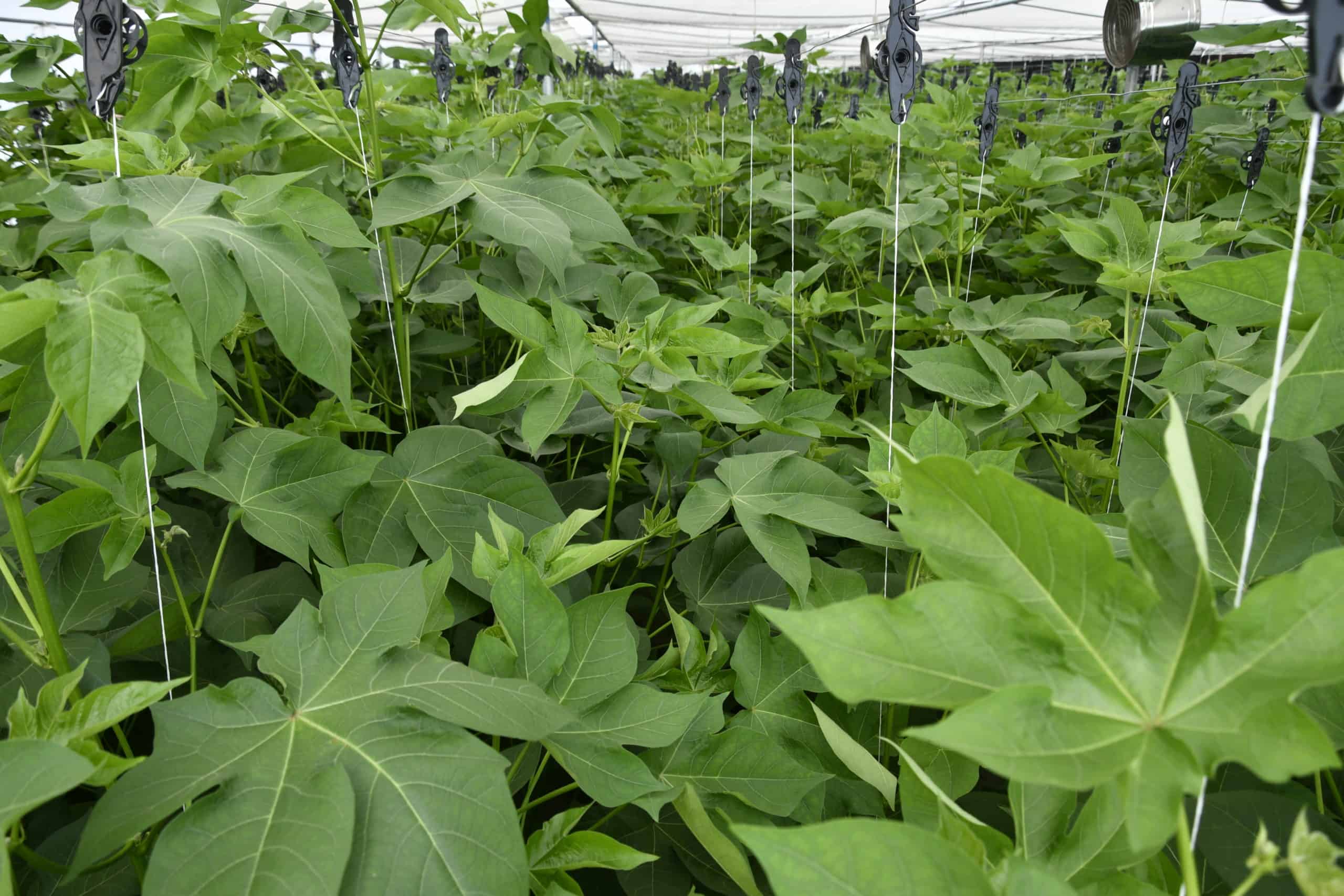 What inspire and excites you to produce organic cotton?
Today one of the significant challenges faced by organic cotton farmers in India is to get quality Non-GMO seed, which is not contaminated with GMOs from the neighboring conventional cotton fields. We want to develop Non-GMO cotton varieties that are tolerant to moisture stress and pests (like sucking American and Pink bollworms). Currently grown Non-GMO organic cotton fiber has quality issues in terms of Staple length, Micronaire, Strength, and Trash, which does not meet the minimum spinning requirements as per the modern-day spinning setup. The proposed cotton-growing technique can provide solutions to carry out seed breeding programs for Non-GMO cotton seed in a safe and secure environment. The project would develop seeds for the project farmers that are not contaminated from the neighboring conventional GMO cotton fields and the fiber quality aspects as desired can be met and adapted to the local growing conditions.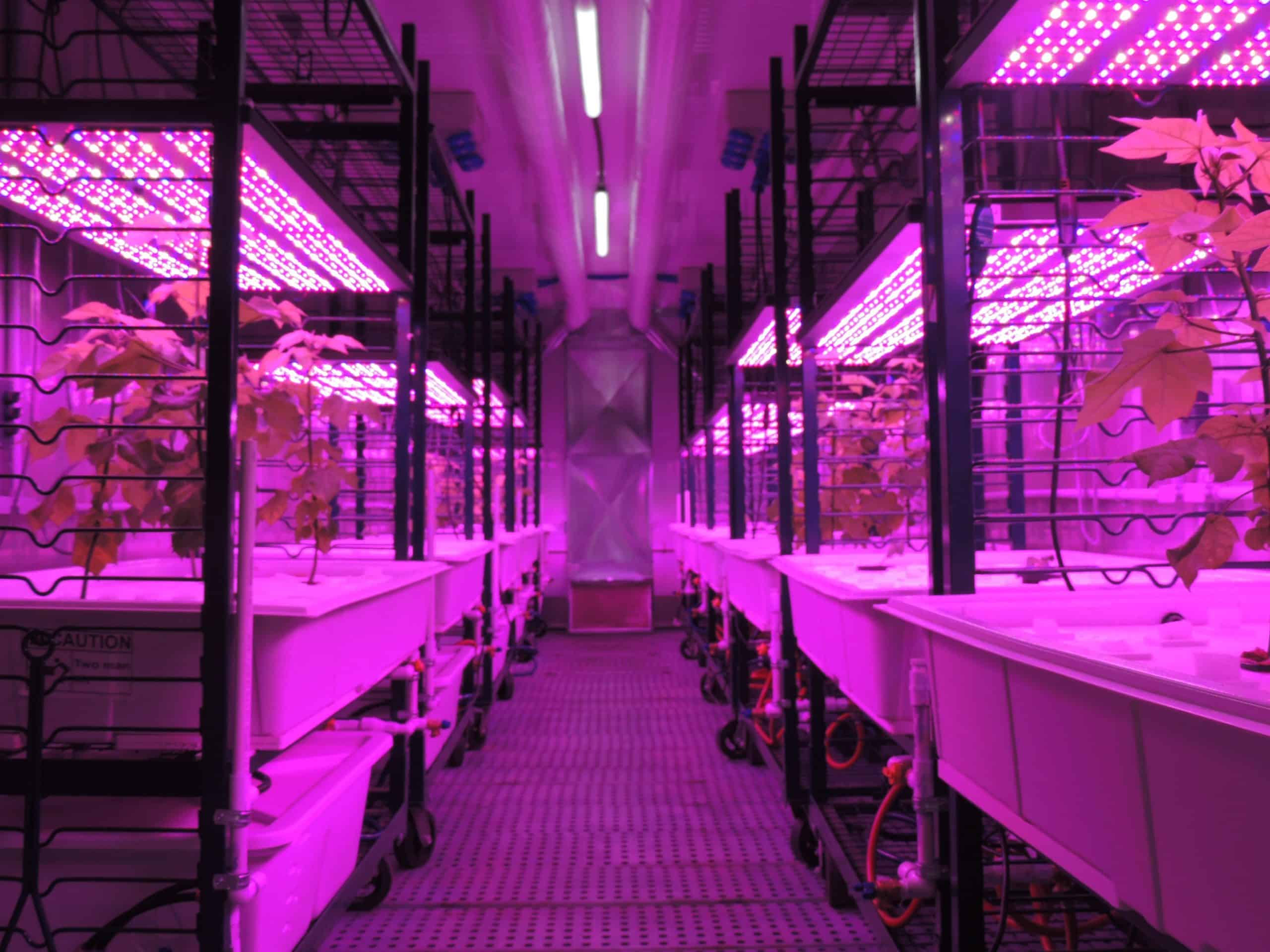 What have been the key learnings from your work?
The key learnings and observations are as follows:
Up to 80 percent more efficient use of water. In this method, water is recirculated. Plants will take up the necessary water, while runoff ones will be captured and return to the system.
Increase in productivity, three times in the same amount of space.
Cotton farming in a climate-controlled environment means farms can exist in places where weather and soil conditions are not favorable for long to extra-long-staple cotton production.
No synthetic chemical pesticide or herbicide needed when operating a hydroponic system.
Effective uses of nutrients, all of the minerals are contained in the water. That means we can measure and adjust the pH levels of our water mixture much more efficiently compared to the soils. That ensures the optimal nutrients uptake for plants. Before planting, we can check what specific amounts of nutrients are needed at particular stages and mix them with water accordingly. Nutrients are conserved in the tank, so there are no losses or changes of nutrients like they are in the soil.
Labor cost is increasing day by day, in the open field the activities like field preparation, plowing, leveling, irrigation, weeding, and pesticide application are costs that farmers need to pay. In hydroponic greenhouses, labor involvement in the above-mentioned activities is minimized, and it saves time and money.
Hydroponic greenhouses for growing cotton have total control over the climate – temperature, humidity, light intensification, and the composition of the air. In this sense, we can grow cotton all year round regardless of the season.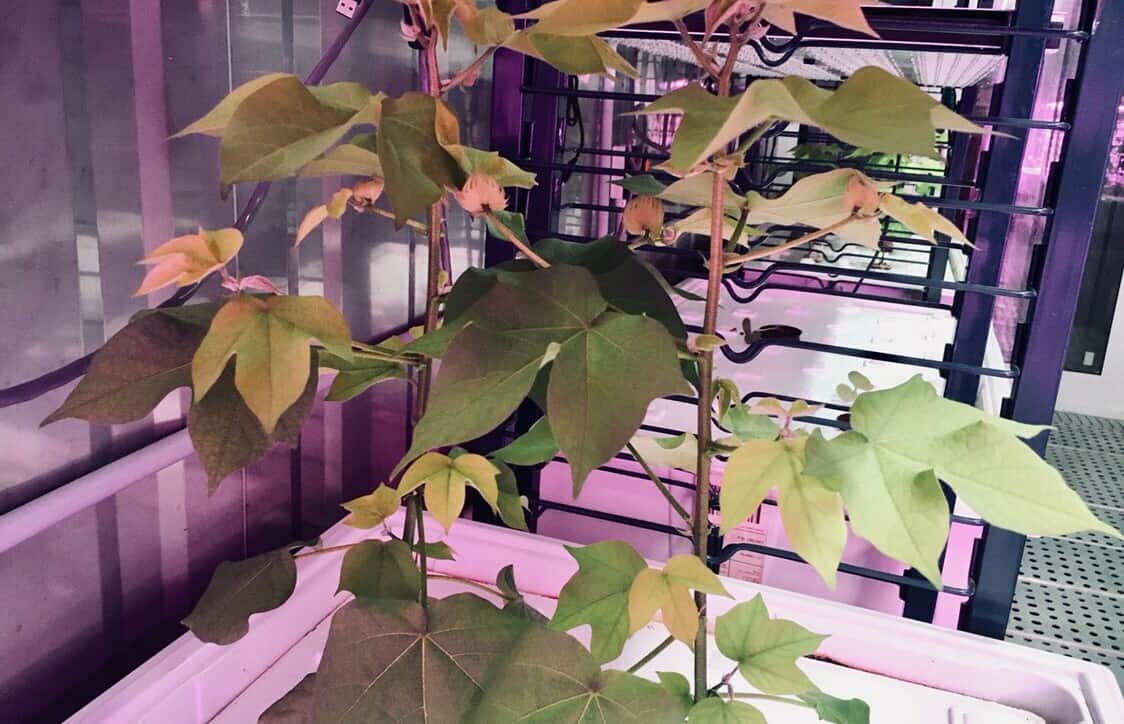 Where do you see your project in 5 years' time?
Organic cotton farming takes into consideration all aspects of cotton production, leading to reduced environmental impacts and better health outcomes for both farm workers and the surrounding community. There is a need to provide a cost-effective and environmentally-regulated hydroponic system that maximizes organic cotton growth and yield and produces extra-long-staple cotton.
What are the main adaptations measures being used by your project in the face of climate change?
Commercial open field cotton production is facing difficulties associated with the environment in which the plants are grown. For example, weather and other environmental conditions are severely affecting plant growth and overall cotton production. Rainfed growing conditions followed with heavy sucking pest infestation (and the emergence of American and Pink Boll worms) are forcing farmers to adopt mass spraying. This spraying is not cost-effective and damages the surface soils, ground, and surface water sources. Adoption of climate-resilient farming techniques to minimize these difficulties and maximize plant growth and production are necessary to ensure commercially viable production of cotton.
What do you expect the impact of the COVID-19 pandemic will be on your project?
Currently, it is in the concept stage as a (research) project with high investments. It would require two more growing seasons to build upon the successes of year one and two of growing cotton. A big advantage in this concept is that the manpower/labor requirement is minimal, and social distancing can be followed easily. People working inside also need to follow sanitation protocol while entering into the growing facility, so that no insect pest can enter into the growing structure from outside.
Due to COVID- 19, India is under lockdown for almost two months; the work will resume once the lockdown is removed, this may have a year's delay in reaching the set targets related to scaling up the production.
What are the top 3 SDGs being addressed by your project?
SDG 13: Climate Action – By reducing the duration of crop cycle by a month compared to the open field scenario in India.
SDG 03: Good Health and Well-being – As no synthetic chemical, pesticides, and herbicides are sprayed. Better working conditions inside the Greenhouse.
SDG 12: Responsible consumption and production – Can develop cultivars that can be grown near the manufacturing facility under the controlled environment based on the required fiber property as required for spinning various count of cotton yarn. This closeness will reduce transportation costs and have a positive impact on the environment.
Senior Vice President – Sustainable Cotton
Website:
https://www.welspun.com